These days social media is such a pervasive presence in most people's lives that it's sometimes easy to forget how far our internal business networks have fallen behind the times. Fortunately, recent evidence is mounting that businesses are starting to catch up. The latest data for 2010 that I can find shows that at least basic social media features now exist in approximately two-thirds of organizations surveyed.
The good news is that as organizations begin to respond to the challenge that Facebook and Twitter have posed in terms of new expectations and user behavior, there's does seem to be a growing understanding that social media must be incorporated in updated portal designs. But for many organizations the question remains how best to go about it. Transforming the infrequently updated and relatively static enterprise intranets of today into vibrant hives of user generated activity is itself often at the crux of the debate. Many organizations just aren't structured today to allow the free-form give and take and anyone-can-post-anything model of the consumer Web.
Yet putting portal teams, content managers, and approval processes in front of every intranet update virtually ensures that today's internal networks will have outdated content and remain a low-value resource to the organization. It can even be argued that one of the signature lessons of the modern Web is that peer production is an enormous force for creative production, if you can put the tools in everyone's hands.
So what does putting the tools in every worker's hands mean exactly? And how can it be reconciled with the hierarchical control processes inside of organizations? To answer requires taking a look at how intranets have progressed over the years (depicted below). We are leaving the 1.0 era of intranets, which in their most modern form have been focusing on some self-service, integrated applications, and some content management and heading into the 2.0 era, which will be more socially networked, peer produced, autonomous, and loosely organization.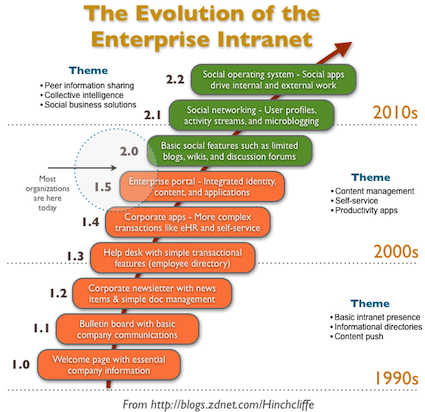 The picture above gives an idealized progression for enterprise intranets including what seems to be coming next for many organizations. One of the things I'm seeing pretty consistently this year are large companies in the midst of portal redesigns with almost all attempting to incorporate social media elements into their efforts. Interestingly, many of these efforts are separate from their Enterprise 2.0 projects. This primarily appears to be because most intranet/portal teams aren't responsible for workforce collaboration, which is often the domain of other parts of the organization.
This separation of vital concerns has had some interesting effects, including the introduction of social tools in many organizations in recent years without enlisting the people responsible for the traditional intranet. This is an important issue, as SocialText's Michael Idinopulos recently pointed out, since making social software the intranet by default is the single greatest thing you can do to drive adoption. But now, those responsible for corporate intranets are now beginning to look at social seriously and there is an opportunity to align and combine forces.
So going forward, many organizations will no doubt continue to decorate their traditional corporate intranet with blogs around the edges, perhaps a wiki and maybe even add in a social network. But if we've learned anything about how social computing has become so central to people's lives and how that the majority of the information on the Web today is created that way, we might save considerable time and expense and design our intranets a little farther ahead of the evolutionary curve.
Related: Ten top issues in adopting enterprise social computing
While there are possibly some downsides in making modern enterprise intranets fundamentally social, I've not heard a single significant issue coming out of the 2.0 Adoption Council (I checked again with Susan Scrupski,who heads up the council, to reconfirm just before I wrote this) or any of the other related communities of practice around enterprise social software. That said, clearly enterprises have some real concerns about going social according to the just-released report from McAfee and Purdue University and to which I contributed, which notes that security remains the top issue this year, with information overexposure the second most common concern…