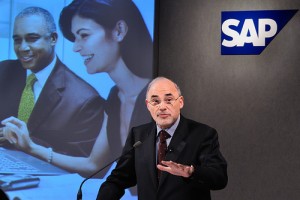 It looks like HP really wants to be a player in the enterprise software market after all,  and avoid the fate of Sun and others before it. The appointment of Léo Apotheker to the top spot fills a desperate void in HP's strategy that may really signal the turn-around of a once great company into a new center of power in the industry.
I've seen Léo in action, and he may be just want HP needs: someone from outside Silicon Valley culture who understands how to navigate in a global economy, a consummate sales professional, a strategist and thinker, and, above all, someone who gets enterprise software, and the value of looking high up the food chain for opportunity.  Of course, I'm biased, but, that's why I didn't chose to become a storage technology analyst 20 years ago.
For those who disparage Léo's rocky tenure at SAP, remember that, had 2008 finished the way it started for SAP, Léo would have been seen as one of the most successful CEOs in the company's history. The company's first-half numbers were incredible — revenues were up almost 20% over the previous year — and while they have been lost in the swamp of the last two years, those numbers reflect a lot of what is possible for HP with Léo at the helm.
And for those who worry that Leo doesn't get hardware, I wouldn't worry about that. HP has plenty of people who do. The problem has never been that HP doesn't know the hardware business, it's that HP doesn't know what to do with all that knowledge. Insofar as I was already thinking that a focus on the enterprise software market is one of the things HP should be doing, I have to concur with the HP board's choice on this.
By the way, don't lose sight of the fact that Ray Lane is now on the board of HP as well.  This is another firm sign that HP is moving into the enterprise software market, and doing so in a big way. It's really a new dawn for HP, coming from the nadir that was the Mark Hurd fiasco and Oracle Open World. The HP Way lives again.