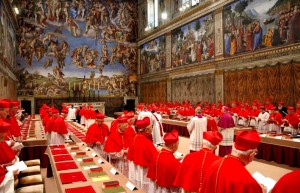 The College of Cardinals was sending out dark smoke signals for weeks. But when the white smoke finally came out and the bells chimed announcing a consensus candidate, the press went "whoa!" They should have been in Rome covering the Papal Conclave; instead they were focused on the antics of Lindsay Lohan and Paris Hilton.
The scene was not the Sistine Chapel – it was Palo Alto, headquarters of HP one of the most storied technology companies (and from a journalist POV with all kinds of juicy bylines from its checkered recent past). For weeks the board had been evaluating candidates – and astonishingly little of the media appeared to have covered the process. Or knows much about the chosen candidate, Leo Apotheker who has only built field teams which have sold over $ 200 billion to the largest companies across the globe. They describe him as "mysterious" and the choice as "curious".
Adam Lashinsky of Fortune admitted "By the way, so much for sources who told The Wall Street Journal almost two weeks ago that HP's board was leaning toward an insider and that a decision was imminent, which generally means soon. So much also for my predictions, which at least were sourced solely to my brain."
Sorry, Adam, you are one heck of a smart journalist, but what are you doing relying solely on your brain? You and WSJ should have had full time teams focused on the HP process – it's only the largest technology company in the world. With your contacts in the industry you are one degree of separation from just about everyone on the HP board.
In contrast, most media cannot focus enough on Sean Parker and the new movie. Nothing against Sean – he is a brilliant young talent, as are Lindsay and Paris – but with everything else going on, somehow get more of the attention of my teenage kids than mine.
I first heard the expression "lazy journalism" during a book event in Dublin this summer (way before Mark Hurd was fired). I was expressing puzzlement that even the largest newspapers and magazines in major international cities overwhelmingly focus on consumer and social technologies, not enterprise technologies. If you run searches on key words "Apple", "Google", "Facebook" on the websites of Wall Street Journal, New York Times, Fortune, Financial Times, Washington Post , The Economist, International Herald Tribune they are disproportionately more counts (1000X in some cases) than around say "IBM", "GE Healthcare" "Bloom Energy".  And many of the articles around IBM or HP tend to be around quarterly and annual results picked up from wire feeds.
Sure, you can understand the Fort Worth Star-Telegram or Sueddeutsche Zeitung focused mostly on consumer tech, but with 85 of the CIOs and CTOs of the Fortune 500 within driving distance of New York, some of the largest banks in London, and some of the biggest tech spending at agencies in Washington, you would expect the major publications to be all over virtualization, BPO, cleantech and so many more enterprisey tech topics. Their readership is disproportionately business executives. Yes, these executives read tech pubs like CIO, and InformationWeek and Gartner and Forrester reports, but they always have an appetite for even more reporting on about vendors and topics they spend trillions a year on…