As I write this, United flight 7473 has leveled out at a bumpy 35,000 feet, departing from Philadelphia en route to Chicago. I'm sitting in seat 16B in the back of a regional jet, next to my seven-year-old son who feels "germy," in his words. And for good reason. About ten minutes ago, right as I woke up from a quick taxi-way take off nap, I realized the contents of a previously used barf bag (see picture below, a bit fuzzy, but you can make out a pair of the flight attendant's rubber gloves…) had managed to ooze their way from the seatback pocket in front of me directly on to my pants.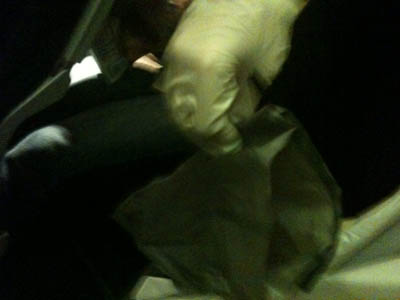 Fortunately, the pants were brown already, owing to my exceptional seasonal fall color selection. Apparently, my knee had pushed forward into the seat pocket forcing the vomit up and out of the bag.
A few minutes prior to the discovery of this situation, my seven-year-old had tried to rustle me from my catnap by telling me the plane smelled of "puke." But I told him not to worry — that's how United usually smells, especially in a seat just a few feet away from the regional jet toilet.
Yet this time, he was right. Barf it was. If there is a silver clean pants lining to the situation, it's that the flight attendants never lost their cool as soon as they discovered what had happened (perhaps this happens so often that there's no cause for alarm??). They were apologetic and got me as cleaned up as possible (and even gave me a free drink). Kudos to them — and the empathetic pilot and gate agent in Chicago as well.
Now, there are many potential angles to covering this story. But I think the one most apropos for these virtual pages is quite clear — namely, that United is cutting costs by cutting back on cleaning crews between flights (in their defense, however, our flight was late to the gate and they were attempting to turn it around quickly). Yet from scattered peanuts and crumbs on the seats to used blankets on seats, it was clear there was no attempt whatsoever to clean the aircraft…