NetSuite's marketing team has been known for their edginess, starting from pranks like the SAP for the Rest of Us Party during SAP's annual conference to staging a shootout at the anti-SAP Conference or releasing edgy videos a'la Mac vs. Windows.  Today they are doing it again, by establishing the Hairball Institute for Business:
(The Institute is) designed to help address both the diagnosis and cure for this most dangerous enterprise IT epidemic: Software Hairball Syndrome (SHS). Software Hairball Syndrome is caused by the softwareullus hairballeum, a malignant growth that is the inevitable product of companies running multiple siloed enterprise software products creating an unstable, confusing, and ineffective tangle of ad hoc integrations, processes, and systems. As more applications grow, the hairball acts like a parasite, sapping productivity and profits, calcifying data silos, cramping growth and devouring cash flow.
(Yes, all that with a straight face and it's not even April Fools' Day

).
What's a hairball anyway?  Perhaps this image helps explain it: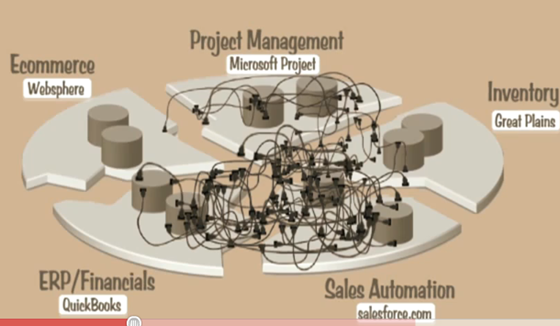 So it all starts with connectors between individual functional apps, until we end up with a huge mess of intertwined connectors, resulting in a big ugly hairball. More in the video below:
Not exactly a new: in fact this – the benefits of a homogenous integrated system vs. the nightmare of hundreds of standalone systems  – was exactly what I was pitching as an SAP Consultant in the early 90's, when it was an unheard of concept, and long before the term ERP got coined.  We took pride in listing 200+ systems displaced by an SAP implementation – today NetSuite hands out hairball awards to customers ditching a dozen or so independent systems.  The difference?  Those were multi-million dollar two-three year mega-projects, while NetSuite's deals are typically in the 5-digit range, and implementation is around 3 months.
Although NetSuite started as a SaaS provider for the SMB market, and that is still predominantly their customer base, they are definitely aiming higher, just like all business software companies, aiming for the Enterprise market. Their approach of attacking from the peripheries appears to work: NetSuite conquers smaller divisions, international subsidiaries of multinational corporations, where they become the de facto business system for the local business and offer real-time visibility globally, as well as financial consolidation on the global level.  The add-on product enabling such international expansion, OneWorld received an update last week, bringing:
Enhanced global inventory management features, more multi-currency handling capabilities, simplified tax reporting and compliance certification in additional countries.
The long awaited integration to Google Apps: calendar, deep mail integration where NetSuite originated business information can be acted upon with the Google environment.
A refreshed  User Interface (having attended the SuiteCloud partner conference earlier this year I can attest that participants loved the system's flexibility, coding-free deep integration capabilities, but were less then impressed by the tired old UI). It's still not "sizzling" – but hey, this is a business system and has a LOT of information to present. The key driver behind the redesign was more logical field groupings, access to common tasks with fewer clicks. Here's a comparison of before / after screens:
Finally, a word on that corporate expansion: the big fanfare is always on the NetSuite vs. SAP challenge, where NetSuite has clearly taken business away from SAP, largely due to their own delays with Business ByDesign, the new SaaS business suite.  But when I asked specifically, NetSuite Executives confirmed they are making inroads to Oracle clients, too – somewhat more Oracle clients in the US, more SAP internationally.  Business is business… my guess is that these are silent wins, NetSuite PR focuses less on them due to Larry Ellison's majority ownership in the company. But in regions where NetSuite still lacks brand recognition, the company isn't using the Oracle CEO's name in ways you would not hear in the US: Larry Ellison's Other Company Shows You How to Bring Your Business to the Cloud.

Finally – no, really, finally… here's a bit more of NetSuite's edgy marketing. Enjoy.