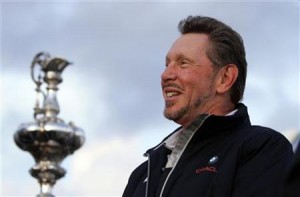 This post appeared on HuffPo suggesting that Larry Ellison should be fired, along with the entire Oracle board of directors.
Larry Ellison is definitely the best paid CEO of America: he pocketed $ 1.84 billion dollars over the last 10 years according to the Wall Street Journal. His shareholders lost 12 % over the same period. I thought incentive compensation to CEOs was deemed to recompense performance: Oracle is a perfect example of what is wrong with Corporate America. Compensation of CEOs has long been the subject of arguments and generally deemed outrageous. It is what makes the face of U.S. corporations the synonym of greed. But what is now at stake, is that, while the amounts themselves are outrageous, their correlation to performance has become questionable.
Now I have no love for Larry Ellison but I think Ugeux's argument is absurd. First and foremost, Ellison is the single largest shareholder of Oracle stock so his incentives are perfectly aligned with every other shareholder… more so that the vast majority of public companies.
Ugeux's argument is hollow if for no other reason than he picked a 10 year timeline to base it on… if you looked at any major enterprise tech company over the same period of time you would see a similar pattern of stock performance. The fact that Oracle has achieved pre-eminent status in the
enterprise sector, is putting up some good ratios, and lastly, created the shareholder wealth that they have is enough for me to say that Larry Ellison shouldn't go anywhere.
We can have a debate about executive compensation but let's not suggest that Ellison hasn't delivered the goods for Oracle shareholders, 1/5 of which is his own holdings.