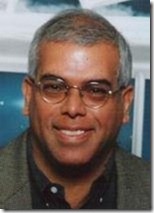 If you're on Twitter and even remotely interested in Enterprise Software, chances are you saw disturbing news yesterday, about our friend @dealarchitect being taken to hospital yesterday, right in the middle of a speaking engagement.
Lack of information is always scary – from what we heard, it appeared that Vinnie collapsed, was rushed to hospital, did not have any id or contact numbers with him, and nobody was able to contact his family – which is important for the obvious reasons, but even more so in case the doctors need medical history..etc.   The Enterprise Irregulars and some of Vinnie's friends, especially Dennis Howlett went into overdrive: we left messages to Vinnie's wife, located his son via Facebook and soon found out which hospital Vinnie was taken to.   Although we did not know at the time, the news was slightly exaggerated and  Vinnie was not alone: his hosts at the conference stayed with him, and even helped with logistic arrangements for his wife, who was flying in from Florida. Special thanks to the IQNavigator folks!
But enough of the background, let's focus on what's important: Vinnie.  He is in stable condition at a very good hospital with the best medical treatment available.  Now that his family is with him, the details are best left as private, family matter.  Let me just say we all sighed with relief when we heard Vinnie got on the phone, and was actually downplaying to significance of the whole issue.  (Once again, thanks to the conference organizers who ignored Vinnie's objections that he only felt altitude sickness and literally dragged him to the ER).
So our friend is now in good hands  – but still needs treatment and rest.  That means strictly no business, and as we hear his wife has not been able to access his cellphone or email accounts yet, which leaves us with this less-then-perfect forum here:
Vinnie will not be able to attend business in the next few weeks – his colleagues who have worked with him are ready to jump in.  Brian Sommer will take up his consulting engagements and R "Ray" Wang is available to help, too.  If you are in business with Vinnie, feel free to inquire here, it will go to the right place.
Vinnie, good friend – all the best now, we hope you'll recover soon and be back in full force.  That's what the New Polymaths do