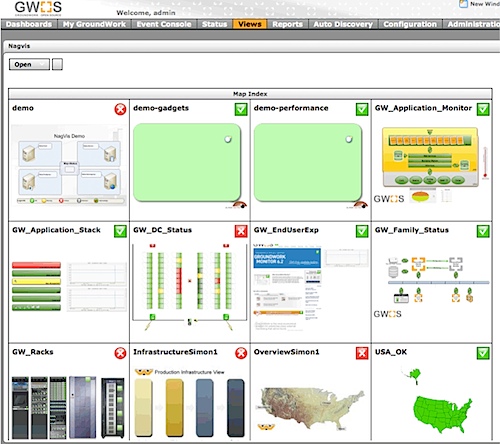 Brief notes are summaries of briefings and conversations I've had, with only light "analysis." This one covers a briefing I had with GWOS' David Dennis and Simon Bennett.
GroundWork Open Source (or "GWOS") released version 6.3 of their enterprise IT monitoring stack today, GroundWork Monitor Enterprise. New features and improvements include further Java support (with a native Java agent), dashboard and portal-friendly refinements, and network data from Cacti. As usual, there are other UI tweaks, bug fixes and such.
Of note for trend-watchers is their attention to the iPad as a device: they've spent time tweaking the UI to work in that form factor, e.g., where mouse-overs don't exist for little pop-up windows. Connected to that, during the briefing, David Dennis said, are signs of a begrudging acceptance of IT dashboards among IT staff. While ITSM dashboards have been around forever, he said, GWOS is seeing more interest in dashboards from part of the IT populace that used to poo-poo dashboards.
One of the other IT staff demographics David and Simon Bennett mentioned during the call was a (further) collapsing of IT roles. Instead of having 1-person per silo, people (or "roles") are expected to manage across more silos. This manifests the need for all-in-one tools or, at least, tools that give a shallow view of everything rather than just a deep view of one thing. Other anecdotes from IT Management land confirm glimmers sort of de-sliofication, but it's still pretty early for that to be mainstream trend.
See the 6.3 what's new page for all the details. Simon also has a webcast demo'ing and going over new features.
Quickstart Update