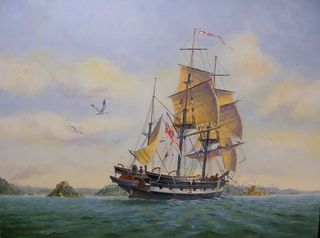 "The idea of cloud in a box, private clouds and public clouds is completely contrary and it devalues cloud computing to the point of nothing." – Denis Pombriant
While Oracle OpenWorld was weeks ago, it's still on everyone's mind and there is nothing like a message from our CEO (disclosure: I work at Salesforce.com) that warns all users of a massive security update from Microsoft and Oracle juxtaposed with an alert that shows how the vaporous Fusion Middleware is going to be part of the cloud in a box. Fortunately there are only 81 flaws addressed in that particular Oracle patch and vapor – well that's cloud to Oracle we suppose.
Sometimes there is vitriol and sometimes, thoughtful reflective analysis is necessary. That's why the CloudBlog team interviewed Denis Pombriant – one of the first (if not the absolute first) people to cover salesforce.com, SaaS (as it was called back then), and Cloud Computing. Pombriant is the founder of Beagle Research, which most do not know is named not after his breed of dog but after the HMS Beagle, which not only was the first ship to sail under the London Bridge, but it was also the ship that took Charles Darwin on an interesting voyage.
The setting for our interview was Oracle OpenWorld, but the topic was "Cloud in a Box" as well as the implications of social, enterprise adoption of the cloud, and Marc Benioff's keynote at OpenWorld. Denis describes Cloud 2 as the socialization of cloud computing, the bringing together of threads into the enterprise in a productive way, and to get business results. Pombriant discusses how grass roots adoption of consumer technologies is rapidly changing how the enterprise works. Pombriant stops short of saying that consumers have all the power, but he does clearly say that the consumer is impacting the enterprise.
Pombriant also discusses the impact of mobile and how it is becoming more important.
While that seems obvious to some, it's not to most, because people underestimate the impact of a being able to carry a device that has roughly 100 times more processing power and graphics processing power than brick-shaped devices just 10 years ago in their shirt pocket. That coupled with WiFi and faster networks is leading the way to a new world.
Recently, CloudBlog talked to Denis again to see if he had an update. Here's what he says:
There's no way you can get your arms around all of Oracle Open World, it's too big. But one of my lasting impressions is the idea of a cloud in a box. It's obvious that a cloud is software and therefore needs to run somewhere. The designation and the use of the plural — clouds — makes me skeptical. The idea of cloud computing that I saw evolving in 2004 is something inclusive, something that enables integration across silos and ultimately results in a total that is more than the sum of parts.
The idea of cloud in a box, private clouds and public clouds is completely contrary and it devalues cloud computing to the point of nothing. [The bold is mine] Even Larry Ellison, a year ago, asked what the difference was between cloud computing and what we've always done. The answer is that the multiple flavors of cloud computing aren't fundamentally different and are really no more than the extension of an old paradigm, not a new one.

Pombriant is right on. If I may be so bold, Oracle with its cloud in a box is a company trying to reproduce a technology at an unsustainable rate. No one wants to buy a box that costs a million dollars before you even get to the software. Add the 2.5x build it yourself implementation plan and 22 percent maintenance and you don't have cloud in a box, you've got condensed vapor dripping on the floor. If Oracle wants to be a hardware company, great. But be green – don't pollute the cloud. If Oracle wants to be IBM. Great. But that's also not cloud (IBM launched a cloud in a box over a year ago to dismal fanfare).
One year ago, cloud meant nothing to Oracle. Today, Oracle has Cloud in a Box, a solution in search of a market from a company that it is basically breeding itself out of a product line a la Darwin (with a little Malthus to throw in).