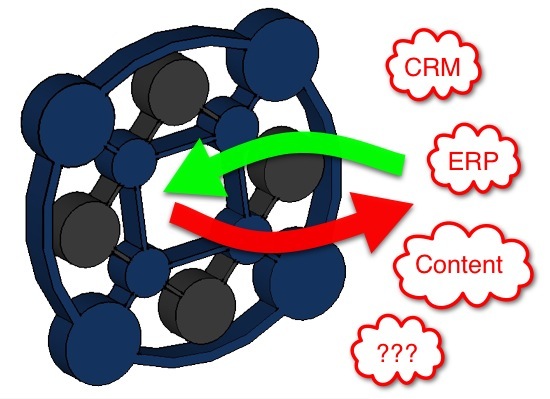 I think there is a strong potential for activity streams to become the new user interface / experience for most workers. The concept of bringing together people, content, data and applications in a people-centric, user configurable stream is very powerful. It also provides a web 2.0 like experience while facilitating collaboration in a people-centric model and a way to more effectively handle enterprise system exceptions. All of this is great as long as workers actually use the activity stream. Adoption has long been one of the greatest obstacles for enterprise software implementations. This is maybe even more true when the system is a new layer across existing functionality, not that it doesn't add significant value, it does, but the reality is that in general users tend to resist change. There is a type of worker that would be easier to move to an activity stream (both from a role or function and from a mind set) and those that would resist (or refuse).
In the enterprise certain roles tend to spend most of their time in a single system and some roles work across various systems whether by design or by necessity. For example customer service representatives (CSR) spend much of their time in the customer service system. They might also have to use email, IM and maybe some order inquiry system (if it's not integrated into the CS system). Sales representatives / account executives tend to spend most of their time in email and sales force automation. For sales there is also a trend to move to mostly mobile computing, at least for field sales and for integrating social network sites and other social data sources into their workflow. To add a social layer on top of these apps would probably meet with mixed reactions. For the CSR it would not be practical for them to spend most of their time in an activity stream, their job makes heavy use of a complex system that could not easily be replicated in a social layer. The sales rep on the other hand, could and would probably find the activity stream a better and more efficient UX for daily activities, especially if integrated into the SFA system for updating forecasts and dealing with exceptions. The activity stream in their case provides better social collaboration, integrated social data, integrated email, exception processing in a friendlier environment and native mobile support.
So the question is how to deal with workers whose role (or mind set) doesn't lend itself to adoption of the new social layer? For these workers the better approach would be embedded social functionality that mimics the activity stream but in context to their role and preferred application. Currently no enterprise vendor is providing that level of functionality embedded in and in context to the enterprise application. There are some large enterprise vendors that are working on this but today it is not fully available. Yesterday I spent some time with Socialcast exploring a new offering that was announced this morning, Socialcast Reach. Socialcast currently provides one of the most full featured activity streams on the market and with Reach, has added the capability to embed the stream into other apps in context. I recently posted on enterprise silo's, a problem that I think enterprise software tends to exacerbate. While I don't think technology by itself can overcome the silo problem, approaching the enterprise collaboration problem from both sides, by providing a social layer and then embedding that social layer inside other apps where people naturally work and need real time interaction around exceptions, issues and opportunities, could certainly help to break them down. Tying both streams together has the greater possibility of getting used, which is the real barrier to the success of any software, especially social or collaboration. The wider the use, the more useful the software, which in turn increases its value and its adoption.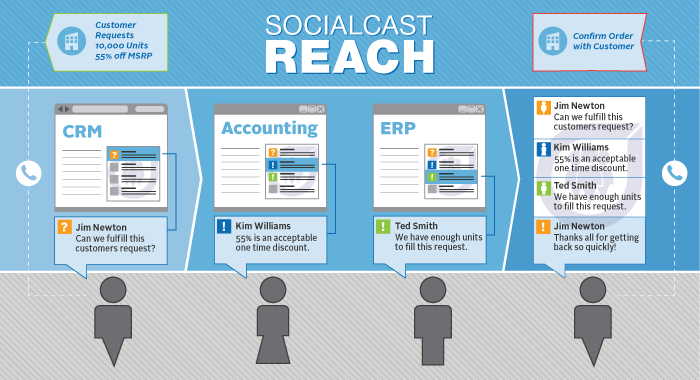 Related articles