There have been a number of discussions lately about where the leadership for internal social media should be located in an organization. For businesses, it's an increasingly important question as the numbers continue to show that social media is becomes ever more strategic to the way organizations communicate and collaborate today.
While many Enterprise 2.0 efforts have been largely tactical up until now, that has begun to change as social media becomes a first class citizen with the more traditional ways that workers communicate and collaborate. In particular, I've noticed that the question of who's in actually charge of internal social media is being asked more and more often these days.
Let's put aside for the moment such notions as it's every worker's responsibility to be collaborative in the workplace or that social media, often portrayed as an activity that would go of itself, doesn't really need a leader. Instead, it's a serious management question in the same way it would be asking who's in charge of any important general-purpose business capability, say operations or human resources.
Most recently the Harvard Business Review explored this subject in Who Should Be your Chief Collaboration Officer, noting that:
In most companies today, senior executives are still responsible for their unit — sales, marketing, HR, division A, division B. Yes, they are told to be team players and work with their peers. But that is often not enough. You need someone to look after the whole, by taking a holistic view of what is needed to get employees to work across silos.
While businesses are still coming to terms with how social affects their business — including how it should be used for collaboration, communication, marketing, customer support, and so on — the discussion has turned increasingly serious in recent years about whether there actually needs to be a Chief Community Officer or Chief Collaboration Officer. Such a role is reminiscent of the burgeoning new Chief Customer Officer, a role that is gaining steady traction in the last several years according to the CCO Council, with 39 firms with over $2 billion revenue now actually having a C-level leader purely designed to represent to customer needs. For many businesses, having a leader responsible for that oh-so-critical business activity: teamwork, seems like a smart one given the low levels of cross-functional teamwork that actually takes place in many organizations.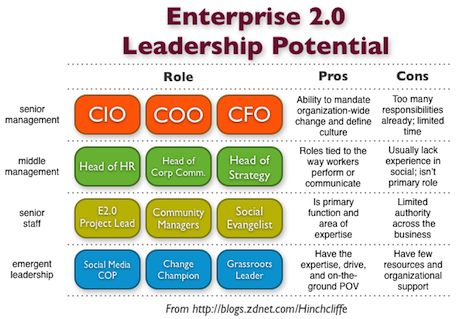 In fact, lack of cooperation and teamwork is felt to be endemic to many workplaces. As I've covered in the past about the challenges of implementing Enterprise 2.0 and fostering collaboration in organizations that don't do it naturally, there are often many reasons why collaboration is hard to do or not happening enough.
Consequently, most workers today would probably agree that the modern organization today is still typified by its silos of function, across which too little useful information crosses. This leads to long-term dysfunction and inefficiencies as the needed knowledge and expertise can't reach where it's needed. In fact, it is right across these communication silos where technology solutions have been designed for decades to lower the barrier of communication, of which social software is only the latest example. But having good collaborative technology is not the only the problem. People are.
Who is really responsible for collaboration?
Does collaboration really need a dedicated C-level leader? Do they need to be fully imbued with the authority, mandate, and resources to reshape culture and behavior in an organization? And is this role really the best place for strategic use of internal social media to reside? In my research I'm finding that the answer is clearly this: not necessarily. In fact, as we'll see there are many solid bulwarks within an organization's hierarchy from which to actively drive improvements in communication and collaboration using social software.
For many classical IT systems, there was often a obvious role in the organization for which it was ultimately responsible. Most IT systems centralize automation and control, yet the opposite is often true of social systems, which distribute and disseminate information and attention using the rules of human behavior, connecting participants to the far-flung reaches of the business. Basically whoever wants to listen or participate. Consequently, there are a few more actors and thus potential leaders, including some unlikely ones, that will determine the success of an Enterprise 2.0 effort.
Related: CoIT: The centralization of IT is being challenged in the social media era.
In fact, while the HBR article recommends that an existing C-level executive "assume the mantle", successful leadership is likely to come from several quarters at once. As organizations move from a 1990s era environment of e-mail and relatively static intranet portals to a new one of social computing-based communication and self-organizing collaboration, leadership that drives success transformation and change is going to come from most or all of these different areas:
Where Enterprise 2.0 Leadership Can Be Found…