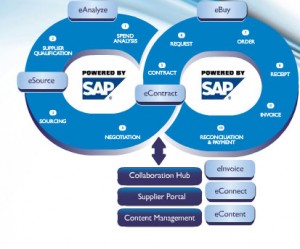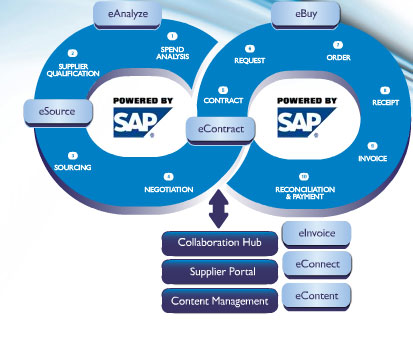 See the first part of this post here.
From a supplier onboarding and enablement perspective, Hubwoo's Connectivity Hub is focused on driving rapid adoption of suppliers and the capture of related sourcing information. The self-service supplier registration capability directs vendors to enter information. In addition, Hubwoo provides a range of value-added services focused on "program management, adoption, content, connectivity, support and monitoring" to enable supplier onboarding. Once suppliers are on-boarded and transacting via Hubwoo's Connectivity Hub, users can archive, search and analyze the full content of each document. In the future, Hubwoo plans new "information derivatives" based on the aggregate business intelligence of information on the network.
Buyers are able to check on the status of invoices and other documents both within their standard buying applications (e.g., SAP SRM) as well as a portal that connects to the Collaboration Hub. This information is real-time, owing to certified SAP adapters that provide transaction status via SAP SRM, MM and E-Sourcing. From a matching and validation perspective, Hubwoo supports two major categories of matching. The first is what Hubwoo describes as "supplier-side pre-matching," which includes "proactive validation, matching, and business rule enforcement for invoices at the time of supplier presentment" as well as "tolerances and business rules which can be defined by the buyer." Pre-matching rules might take the form of requiring invoices to be matched to a certain tolerance of purchase orders or goods receipt prior to allowing invoice presentment. Other rules an A/P or procurement might specify include validation to country-specific legal requirements, required and qualified digital signatures, etc.
Hubwoo also supports buyer-side matching, which includes …