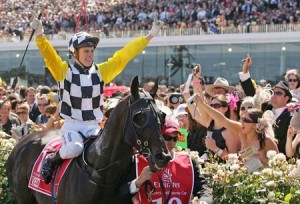 This week CloudBlog is in Sydney, Australia, but just last week we were in Orlando Florida at Gartner Symposium  – the 20th anniversary of the conference show – a feat in itself in many ways. One thing is clear, even though the two cities are roughly 10,000 miles apart, the adoption of the cloud is at the top of everyone's mind. It is far more important than the World Series, in which our world famous San Francisco Giants finally became world famous (except in Sydney) where Australians for some reason cared more about the Melbourne Cup, a horse racing event that makes the Kentucky Derby look like a carnival pony ride.And the discussion here is related at least distantly and imaginarily to pony rides and cloud computing. The discussion of unicorns came up more than once, mainly because CloudBlogger Peter Coffee
shredded the concept of the private cloud
with his brilliant piece on the mythical beast.
But let me get back to my point. In Sydney, the issue of cloud computing is extraordinarily important because Australia – one of the top technology consumers in the world – has exactly the same issues that were brought up at Gartner Symposium.
And yet, no one has highlighted the impact on information technologists to a satisfactory degree. That is until CloudBlog interviewed Daryl Plummer, who not only is a fantastic speaker he's also a big thinker in the space. In this interview Plummer, the chief of Gartner research, the chief Fellow, and the managing vice president of research, put out a call to action:
IT must become relevant or Die
Plummer says there are three things happening in IT now. The first is cloud, the second is mobile, and the third is social. CloudBlog agrees. But what's happening with IT is that it's faced with 2-4 percent growth over the last several years. That is the equivalent of shrinkage when compared with spending in other areas. IT's projects are becoming less relevant and thus are dying.
Why? Business doesn't trust IT. Business views IT as an obstacle. Business is on the wrong side of an equation – they're so busy keeping the power on that they are forgetting to turn on their lights. Plummer believes IT can become relevant first by stopping what it has been doing for several years. Namely, IT needs to stop saying no to new projects, including cloud projects. IT needs to keep up with the business or get out of the way. Finally, IT shouldn't rely on technology for technology's sake.
Gillmor shot this video in a vertical format, presumably to highlight the vertical stripes on Plummer's shirt. But content is content, and as far as that goes – this is the best I've seen. It's bigger than the Melbourne Cup. Enjoy.