As social software becomes increasingly common in the enterprise, one of the most frequently asked questions these days is which are the best social platforms to use. In general, enterprises like to invest in software that will see successful adoption, have vendors that will be around to support them, and will evolve in a direction that is aligned with where they're going as well. Somewhat surprisingly, this often pares the list down to a fairly small list of candidates given the large number of enterprise-class social platforms available today.
In my survey last year of top Enterprise 2.0 platforms, I found over 70+ social products that had business utility across a wide spectrum of functionality. Just last week, Gartner issued their 2010 enterprise social software Magic Quadrant (read a good analysis of it by Read/Write Web's Klint Finley) that listed old familiar faces and newer entrants while dropping many players. Whichever list you use, that's a lot of software to evaluate in a clearly shifting and evolving landscape.
What's the organizing principle?
Good technology products often spawn close followings and the social software space is no exception, though it's mostly reserved for open source offerings like Drupal or microblogging apps like Yammer or SocialCast. There is also the ever-present shadow of mindshare, with the top products such as Microsoft Sharepoint, Lotus Connections, and Jive Social Business Software usually foremost in mind for large businesses at the moment.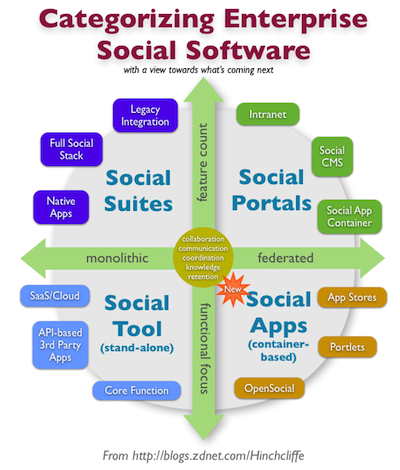 Yet there's an inescapable feeling that unlike consumer social platforms, which have seen a tsunami of growth such that they virtually dominate the online world today, the enterprise social software industry hasn't quite found — for lack of a better word — its mojo in quite the same way. One of the things that seems to be missing is an understanding of what the center of focus should be.
Should we be adding new social apps to the workplace, such as social networks, microblogs, and wikis, or should we be making our existing enterprise applications more social (ala Salesforce Chatter)? Or both? How about our intranet portals, how do we reconcile social with them? Or perhaps most importantly, what business problem are we trying to solve? The answers to these questions will help determine what software solutions we look at.
Big platforms or simple apps? Do we have to choose one?
If there seems to be a dividing axis in enterprise social software, it seems to separate applications that focus on doing something particularly well, like dedicated wiki or microblogging tools, from those that try to provide an all-encompassing social capability, the so-called enterprise social suites. This is the "bloat" versus refinement of this post's title. Good examples of the former are Atlassian's Confluence and Yammer, while Drupal and SocialText are typical exemplars of the latter (and see my breakdown of SharePoint to get a sense of its size). Keep in mind though that one person's "bloat" is another person's requested feature, yet good emergent platforms don't need many new features added centrally.
On their face, the sheer size and complexity of some enterprise social suites, such as Microsoft SharePoint 2010 or the forthcoming Lotus Connections 3, sometimes seems to in opposition with the reason that social software works so well. In contrast, the social platforms that are prevalent in the consumer world seem to give us the power to do so much by doing so very little. It's their incredibly simple usage models which have fostered their utility and adoption. They have given everybody fundamental access to the power laws of large networks.
It's at this point I should say that's it's not me saying this, it's the many people I encounter who are trying to wrap their minds around what these ambitious (and yes, largely capable) platforms can do for them and their businesses. The point here is that to the extent that the complexity of enterprise social software obscures or blocks the core nature of social computing, it limits usability, adoption, and flexibility, and therefore value…