It's always good to see cloud computing vendors putting their money where their mouth is. Cloud ERP vendor NetSuite therefore has good reason to make a meal of its announcement, expected later today, that SaaS CRM stalwart RightNow Technologies is running its global financials on NetSuite OneWorld, having rejected on-premise alternatives. (By the way, NetSuite itself already 'eats its own dogfood' and has several other well-known SaaS vendors as customers including SuccessFactors, LogMeIn, Splunk and Qualys).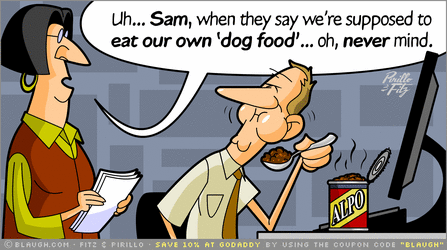 What is not in the announcement is the colorful extra detail on how Oracle lost the deal. Those details were revealed in comments by RightNow's CEO Greg Gianforte when he met analysts at his company's EMEA conference last week (I spent a day there and have several posts still in the pipeline from the event). Gianforte was responding to a provocative question from Business Cloud9's Stuart Lauchlan as whether cloud software came in a box with a big 'X' on the side. The allusion to Oracle boss Larry Ellison's recent OpenWorld keynotes gave Gianforte the perfect cue to tell the whole story. (There's poetic justice for you! If only Ellison had kept his mouth shut …)
It turns out Oracle had already set itself up for a fall with an earlier sale of software to RightNow. As Lauchlan explains in his write-up, when RightNow went to implement that software, its engineers found they had to install it across 30 servers to get it to scale properly. Oracle then hit RightNow with a multi-million-dollar retrospective bill for extra licensing costs. The figure was ultimately negotiated down to a quarter-million dollars, but RightNow was determined not to face a similar risk when buying its financials software: "I said I wanted price certainty and I wanted the ability to cancel annually and to be run in the Cloud," recounted Gianforte. Perhaps the experience had also helped shape RightNow's public position on contract transparency in SaaS deals, announced earlier this year.
As Lauchlan reports, the Oracle sales team might as well have been on a different planet for all they understood about what RightNow expected from SaaS contracts and licensing. Pay-as-you-go, cancelable subscription contracts with no surprise hidden extras or price hikes? And you want us to take responsibility for actually operating the software? No, that's not how it works, sir, you take all the risk, we just take the money …
Recalled Gianforte: "Oracle said here's a third party to run it for you, now here's a bill for a perpetual licence. I said I wanted price certainty. They said 'oh, you want to pay over time? So you want to lease the software!'. That's the way they work. For everything that Oracle says, they are not a Software-as-a-Service company. So we went with NetSuite who gave us 7.5 years of price certainty."
Moving their business systems to the cloud ought to be a priority for SaaS vendors. It makes good PR when a company like RightNow can have its CFO publicly state, "We believe that the cloud is the future of business, and that's why RightNow has committed to operating in the cloud." I was reminded last week by former AMR analyst Bruce Richardson, who is now chief strategy officer at Infor, that Salesforce.com still reluctantly runs its financials on Oracle. That must grate, the same way that Bill Gates used to hate having Microsoft running its business systems on IBM minicomputers in the 1990s. Cloud computing will really have grown up when cloud vendors have finally purged all on-premise systems from their own internal IT.
[Disclosure: RightNow paid my travel and accommodation for its EMEA event last week. NetSuite's VP of corporate communications picked up the tab for dinner when she and I met in London earlier this week, on her way back from visiting its new development center in the Czech Republic.]
Related articles