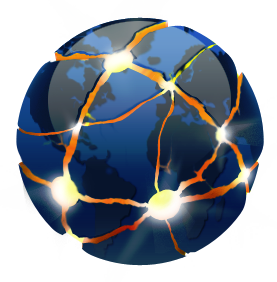 OK, I admit, that's an appalling mixed metaphor I've conjured up out of Rockmelt, the new social media browser launched into limited beta today. But I do think that Rockmelt's appearance, with its volcanically evocative name, bears witness to a reshaping of the computing landscape, a seismological shifting of tectonic plates (geddit?), all brought about by the advent of cloud computing and its ongoing repercussions. That rumbling is the sound of a massive cloudquake heading our way.
Rockmelt is getting a lot of attention in the blogosphere today mainly because the startup is backed by Marc Andreessen, who knows a thing or two about browsers. By the way, perhaps he also recalls how serendipitous innovation can be. Back in 2003, on the tenth anniversary of the release of Mosaic, he told Network World that he and his colleagues creating the browser had never been happy with the browser's Back and Forward buttons: "That never made a lot of sense to us. Back to what? Forward to what? We thought there would be a better way to navigate. But no one ever came up with one."
But leaving aside Marc Andreessen's powers of prescience, let's get back to Rockmelt. When I saw it, I immediately thought of Seesmic, a tectonically-named application which also melds together social media streams. To me, that's the trouble with Rockmelt. It's an application masquerading as a browser â or perhaps a browser masquerading as a mashup platform. But then it struck me that maybe the problem is not with Rockmelt, maybe it's with applications, or browsers, or platforms. And that's where the tectonic plates start rubbing up against each other.
One of Rockmelt's biggest departures from browser orthodoxy is that you have to log in. That's very application-like. It makes it a whole lot easier to carry your browsing experience between devices without having to sychronize bookmarks and every other element of personalization. But it falls flat if you move to a device without Rockmelt installed. How likely is that at the downtown coffee shop? Perhaps Rockmelt's creators have reckoned their early adopters will have moved on from backpacking between cybercafés. But it seems to me there's a big implicit assumption underlying Rockmelt's design that people increasingly browse the Web within an application context (or at least, a social media platform context) and therefore they'll have less need or desire to use a standalone browser.
Otherwise the startup would have built Rockmelt as a cross-browser extension or application. Exactly like Seesmic. And the interesting observation there is that Seesmic already uses Silverlight to deliver its cross-platform functionality. So in order to do something like what Rockmelt is doing, Seesmic has had to go beyond the browser anyway.
But then Silverlight itself, we've just learned, is not going to be getting the same focus Microsoft originally planned because the next generation of Internet Explorer is going to revert to using HTML 5 to do much of what Silverlight aimed to do. What's more, IE9 is going to become much less like a browser, much more like a framework for Web applications to run in.
The approaching cloudquake will shake up today's browsers and replace them with a new generation. But what will that new generation look like? Will browsers become barebones HTML5-compatible frameworks that cross-platform Web applications like Seesmic run in? Or will they become functionally tailored application environments like Rockmelt with HTML5 compatibility built in?
I'm not sure that Rockmelt is the way to go, though it does point in the right direction. It's an important demonstration of the inadequacies of the present generation of Web browsers for social browsing. But I'm going to bet on cross-browser applications that deliver similar social media mashup and presentation capabilities rather than Rockmelt's dedicated browser approach.
Related articles