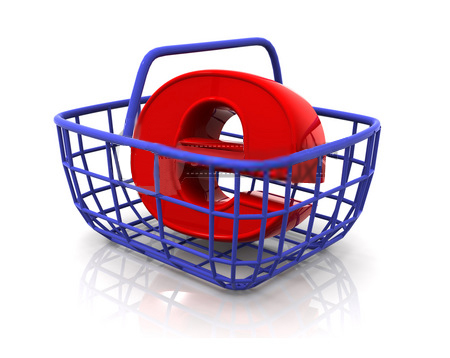 In the late 1990's sticking an "e" in front of anything was just the cool thing to do…eCRM, eProcurement, and particularly popular eCommerce. As the web moved from static to transactional eCommerce became an important business model, taking brick and mortar retailing online with technologies like eCatalogs and online shopping carts. Internet powerhouses like Amazon, ebay and even some forgotten names like CDNow, grew up during this dynamic time. Analysts firms rushed to get coverage on eCommerce technologies and practices as it became the flavor of the day. And of course like all flavor's of the day the day went happily by and eCommerce became just a part of doing business if you were a retailer. The underlying technology continued to evolve though, we just stopped talking about it as a great new frontier, it was a part of your business and your business software had to support it. Over the last year though, I'm hearing the term eCommerce more and more as well as a new flavor of the day, social commerce.
Now I'm just as guilty as the rest of the analysts community when it comes to the use of the word social, I've written regularly on social business as the evolution of social CRM and enterprise 2.0 (the other flavor of the day trend, the 2.0's). I've managed to avoid calling everything social "social media" at least, preferring to use that term as a specific thing, not a broad general statement. When it comes to commerce though I'm going to draw a line. Not that I don't think social is having an impact on commerce, it is and I do, but there are several trends converging at once to change commerce and it's bigger than just social, IMHO. Just as I think the underlying motive force for social business is the hyper-connected or networked nature of the new economy, I believe the same force is driving changes in commerce. For commerce tech trends are indeed having a significant impact including mobile, social networks / community, social search, social media / socially generated content, SCRM, e2.0, hyper-connectivity, location-based and context aware software, cloud and the networked business.
Dealing with the social customer and taking what we're learning in that arena, I am convinced that the underlying concepts really point to an obvious approach; to deal effectively with the social customer businesses must create a positive, engaging experience for that customer. Experience is what keeps the customer engaged in that conversation you so desire. I suggest to understand what the next generation of online retail and commerce entails that we need to drop the "e", not add the "social", leave off mobile and focus on the convergence of commerce, or multi channel experience facilitation (I actually typed management at first but I don't want to give the impression that companies can really manage the customer experience, they can facilitate or enable it, but managing it is up to the customer).
So what do we "know" that can be applied to the next generation of commerce (and no that's not commerce 2.0)?
The social customer looks for advice, recommendations and research from their own networks. Think of that as highly relevant trust filtered information. This could also move beyond personal communities and be extended into an integrated customer community where peer to peer support, recommendations and advice are available to customers and prospects hosted by the brand.
The social customer focuses on experience and what's in it for them first, then for their own network.
Expectations are high for any interaction with your brand whether its online or in a brick and mortar store. There are a lot of options for customers today, don't give your customers a reason to help your competitors business be more successful.
Convergence means that customers expect one continuous experience from your brand no matter where they are and how they choose to communicate with you.
The 1st time you have to ask a customer to repeat an issue they have already communicated to you might be the last time you hear from them.
Think context when you build commerce systems, use what you know about your customer to tailor every interaction and experience. This is where socialytics really comes into play, real time use of social and enterprise data to craft an experience.
Socialytics plus traditional CRM analytics is also critical for turning loyalty from a passive program to an active, business strategy enabling system.
Commerce systems need to tie together online, mobile, in store, phone, facebook, Twitter (and other community sites), customer service, order management and fulfillment, etc. into one seamless customer experience. We have to move away from the days of thinking of distinct separate systems or modules and into a full and highly complex customer experience process. This is not limited to CRM systems or financial systems either, but must also tie the inside of the organization (employees) to the outside (customers, suppliers, partners).
The next gen commerce platform is based on the same concept that underpins social business, people are the new business platform. People are the key nodes in a business network and this design principal is key to the new, integrated commerce platform.
As more systems move to the cloud the easier it will be to build this seamless experience. The Internet of things comes into play here too, as smart devices could provide context and another channel (think smart, socially connected vending).
The economic crisis / recession has created a great deal of momentum for retailers and other commerce focused verticals to move to next gen commerce platforms.
We have quite a way to go with this connected, converged commerce system and our ability to facilitate this multi channel customer experience but vendors are making progress. Last week Oracle announced its intent to acquire ATG for example. Oracle has already assembled quite a few key components to the new connected commerce offering with robust CRM, merchandising, analytics, inventory management, etc. and with this addition to its portfolio extends the platform significantly. In particular ATG adds a robust platform that works across online, in store and mobile channels creating the new omni-channel commerce offering. With ATG Oracle Retail provides additional  capabilities including merchandising, enhanced analytics, marketing, content personalization, automated recommendations and live-help services.
At a recent event one of my colleagues used a soft drink example of how connectivity and Internet of things was changing commerce. The example is an Internet enabled drink dispenser called Coca-Cola Freestyle that allows the customer to create something like 100 combinations of flavors. The connected machine "phones home" regularly to tell HQ what it's dispensing and when it needs re-supply. The idea streamlines supply chains and it also provides a level of crowdsourced product design info. I think though, that Coke missed the broader point though. The device is connected and has a touch screen interface so what if it also connected to your individual network and offered suggestions based on friends recommendations. You could ask questions from your network as well of course and create a social soda design experience. Or maybe even better the machine could connect via a mobile app to your preferences so that you could tag in to the machine, sharing and getting relevant information…now that's converged commerce.