Calpont, rapidly emerging as yet another contender in the ADBMS sweepstakes, has announced version 2.0 of InfiniDB, its columnar MPP offering over shared storage. The value proposition hits now-familiar themes: high-performance query, fast data loading, data compression, and parallelized user defined functions (UDFs), all of which are becoming key checkoff capabilities. InfiniDB also hits hard on pricing, which it says dramatically undercuts that of its competitors. And a 30-day free trial of the enterprise edition sweetens the offer. For those comfortable with open source, the 2.0 release of the  community edition is available as well. Calpont says the community edition (which is limited to a single server but is otherwise database feature-complete) has had 15,000 downloads. But the company's relationship with Oracle for its MySQL components must be considered a risk going forward.
InfiniDB, like Infobright, is built atop Oracle's MySQL. (I posted about Infobright last year, and it also has made significant progress, drawing favorable comment in the open source community for its continuing maturation.)  Calpont's relationship with Oracle must be seen as a risk factor..Oracle's recent decisions about support raise questions about its interest in supporting anyone who is not an enterprise-class user of the Oracle-branded MySQL offering. Calpont has a deal through 2012 that includes an OEM license to integrate and use MySQL as the InfiniDB branded solution, and access to the MySQL channel. What will happen beyond that is clearly a concern.
InfiniDB Release 2.0 answers some prior concerns about the maturity of the product. My friend and BBBT colleague Jos van Dongen posted a look at InfiniDB earlier this year after looking at release 1.5 , in which he noted some challenges, including some missing SQL capabilities. MySQL consultancy Percona also raised questions in its MySQL Performance Blog about the absence of some data types, including Year, Time, Tinytext, and NOT NULL. These have evidently been addressed in version 2.0, although I have not confirmed the specifics point by point.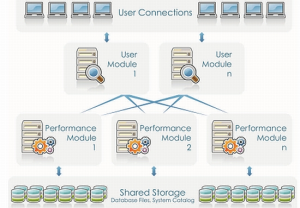 Version 2.0 also adds automatic data partitioning, another familiar theme. InfiniDB partitions data in both column and row dimensions. Dropping unneeded partitions can be automated, a nice feature for data whose horizontal partitioning is based on date. InfiniDB continues to operate over shared storage, but Calpont says shared-nothing is on the roadmap for 2011. Data compression has been enhanced, and Calpont says data can be decompressed "while being read from disk." I didn't dig into the deep discussion of this that will clearly be required to separate the players in the year ahead. Approaches vary, and a great deal of innovation is happening in the space.
InfiniDB executes what it calls map reduction (NOT an Apache MapReduce implementation, but a "similar" architectural approach.) The InfiniDB MPP architecture employs…