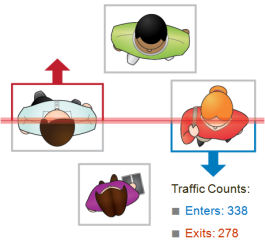 Another great exit for the Toronto startup community and some great news in advance of CIX in a few weeks. Toronto based Cognovision has reportedly been acquired by intel. According to DailyDOOH, which covers the digital out of home market, the pricetag was $17m.
Cognovision was the winner of the CIX pitch competition last year.
I have to admit that when I first heard the Cognovision pitch, it felt holodeck cool. It also seemed "too good to be true" — Turns out I was wrong and the company shot to ~$1m in revenue pretty quickly. Using a camera on top of a digital display, Cognovision could give you some rough estimates that covered:
Actual Impressions – The number of people who look at your displays
Length of Impressions – How long people look for
Potential Audience Size – The number of people who walk by
Dwell Time – How long people stay near your displays
Anonymous Demographics – Demographics of your audience (gender and age bracket)
Cognovision began as a research project at the University of Toronto at the same Lab as both BumpTop and Sysomos, to other recent success stories out of Toronto.
Congrats to Shahzad, Haroon an the entire team.