Last week, I tried out the Ultimus Test Drive, a guided hands-on session using a process application built with the Ultimus BPMS. The process itself was fairly simple – a purchase request process – since this test drive is targeted at end users, not analysts or developers, and intended to give the user a hands-on look at what it's like to participate in the process.
The script for the session is pretty straightforward: a purchase request  is made by one person, approved by their supervisor, then sent to their manager if the amount is over a threshold. Once approved, the purchase order is created and emailed to the requester.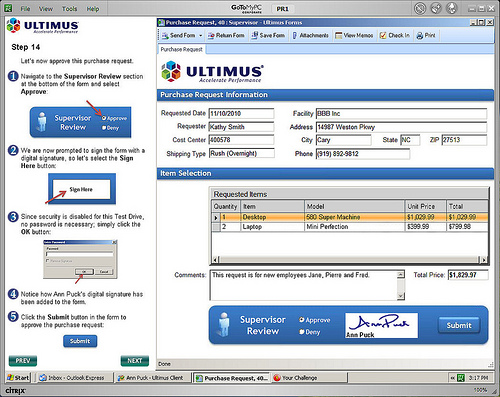 The real innovation here is not the application itself, but the method that Ultimus is using to have people try it out. Although the demo is scripted and partially guided, you're actually interacting with a live version of Ultimus via GoToMyPC, not a screen capture animation. Optionally, someone from Ultimus will watch over what you're doing and be on the phone with you, providing help if you get off track.
If you're in the market for a BPMS, getting your hands on software as part of the evaluation process is important, but is rarely done very satisfactorily. In many cases, organizations still buy (very expensive) software based only on what they see in a demo given by the vendor's sales team, without ever trying it out for themselves. I have seen some situations that improve on that by providing the analyst/developer view of the product in a hosted environment (such as EC2) for a trial period; this allows the techies to do an evaluation of the look and feel of the components that they will use, but rarely the end users. Short of an onsite proof of concept, it's rare for the potential end-users to have a chance to try things out. The exception, of course, is cloud-based BPMS where you can get a limited trial license for free, or nearly so, but that covers only a small subset of the BPMS vendors out there today, and if you're looking at on-premise software for your final solution, you may not want to limit your search to those that also have a cloud version.
We need more of what Ultimus is doing in terms of customer (or prospect) education: the chance for a quick, hands-on demo of software that we're expecting people to spend a good part of their day interacting with in the future.