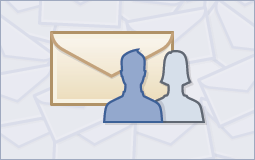 Amidst all the noise about Facebook's new messaging offering this week – I have been wondering….
What would be useful to me is a messaging system that would automatically segment my messages from people – which I generally care about and do try to respond to – from that I receive from brands.
Let me put it another way – I use Gmail's Priority Inbox – which is definitely a step in the right direction.  But here are my stats right now.
Priority Inbox – 35 messages
overall Inbox – 7270 messages
I attempt to practice good inbox hygiene but obviously the situation is out of control.
While I've never particularly cared for Facebook's messaging interface, I do like how they segment ' Messages' from 'Updates' (i.e. messages from marketers).
And I also like how when I do receive a 'message', I know it's…
from someone I know
(likely) about something I care about
easy to remove (permanently) if it doesn't meet the above criteria
If that's the direction Facebook is headed, yes I may just be interested.
If they're not, someone please build it.  Because I really, really need it.
Whatever Facebook is doing (and I fully admit to paying only limited attention so far), it should be better for consumers even if it is, as my friend David Libby said earlier today, a challenge for marketers.
Because, right now, the balance of power is tilted and my inbox is losing.
It's time to level the playing field.