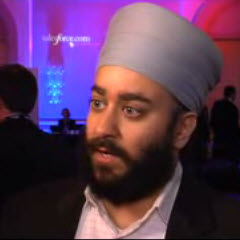 Appirio is a new kind of integrator. In the four years since the company was founded, the company has completed over hundreds of engagements. Much of their work is focused on connecting cloud solutions like Google Apps, Workday ERP and Salesforce.com CRM to each other and work on hand-held devices.
Salesforce.com is having its annual conference (Dreamforce) in San Francisco in a couple of weeks. It's an event that should draw a record crowd (I'd expect 18,000+ this year). Appirio, I'm fairly sure, will be there. So, to get a jump on Dreamforce, I recently posed a few questions to Narinder Singh, the head of Products, for Appirio. Here is our exchange:
Brian: Appirio is a different kind of integrator. It's not implementing older on-premise solutions. It is connecting different cloud solutions to each other and to mobile devices. Is there really that much work out there? What's the prognosis for the future? How big is the market for cloud-to-cloud service integration going to be?
Narinder: When we started the company, we had a visceral belief that on-demand (there was no cloud then) was going to change the industry forever. We believed it was not a question of âifâ, but âwhenâ and âhow long?â Four years later, itâs not faith but concrete evidence that makes us feel that way. Our point proof includes hundreds of customers who we've helped move to the cloud and a recent industry survey of cloud adopters. The market has shown there is no going back.
Brian: Right now, Appirio seems to be focused on three main cloud solutions: Google, Salesforce and Workday. Any thoughts on who should be next? Taleo? NetSuite?
Narinder: We traditionally looked for partners with three main criteria:
Enterprise Focus

Critical mass to support an ecosystem of innovation

Relevant because of the Public Cloud
Part of this criteria was religion, part of that was our own size and capability in the market. In the future we will continue with the same criteria but, now with Appirio CloudWorks and maturing standards, we have an ability to bring more innovation from more providers to enterprisesâwithout creating friction and SaaS silos. So expect to see more rapid expansion with CloudWorksâwe are already doing that with partners like Marketo, Dun & Bradstreet and Xactly.
At the same time, we will expand our most strategic relationships slowly. We now have a fourth criteria that involves learning from our customer base and seeing what will be most important to them. The names we hear most in that segment are companies like Cisco (Webex and Quad for Collaboration), Amazon, VMware (public cloud not their simply their core business), Taleo, SuccessFactors, Concur, ServiceNow along with many others, and that list is constantly evolving.
The other dimension we are very committed to is mobile. We actively working with iPhone OS and Android from a technology perspective and those are very attractive partners.
Brian: Appirio is now in the software business. Sadly, the track record for integrators getting into the software space has been mixed. How is the Appirio software business going to succeed when so many service firms have failed doing this before?

Narinder: Hereâs the short answer. We have pursued this model by design from the onset, itâs part of our DNA and culture as a company, and the public cloud makes it possible.
The historical pattern has been services businesses grow tired of low-margin people businesses and have envy over product margins and "get into software". Our model by design from the onset has been product and servicesâthe next generation IBM without the baggage of hardware. We want to have a trusted advisor relationship with enterprises as they go down a decade long journey to the cloud. We also want to bring them the people, the process and the technology to make that shift. From the product perspective, we look at our services business as being product management for the entire move to the cloud. We have a much more nuanced view of real customer needs than anyone because of the 800 cloud projects we have done for enterprise customers.
From the onset we combined this view with a dedicated and experienced R&D function that was focused on increasing the value/reducing the cost of what we were doing for customers. That balance overcomes some of the historical model conflicts between services and products and focuses on the overall customer solutionâpeople, process and technology…