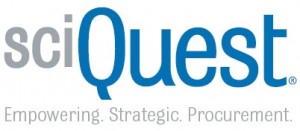 This post is part of a fall 2010 series looking at Ariba Supplier Network alternatives, beginning with each provider's basic background in the area. We will then examine their solution approach and Ariba/third party systems integration, and finally, provide our own summary and analysis of the provider's overall capabilities.
SciQuest is a focused P2P provider which, thanks to its recent IPO, is getting much more attention these days. As part of their procurement offering, which is targeted at the life sciences, research, higher education and public sectors, they offer a Supplier Network service that drives content and information exchange between buyers and suppliers. This offering is a combination of organic, homegrown capability and partner (e.g., OB10) capabilities. SciQuest suggested to Spend Matters that their solutions "provide customers with a set of products and services that enables them to optimize existing procurement processes by automating the entire source-to-settle process" and that the SciQuest Supplier Network, specifically, "acts as a communications hub that connects our customers to their suppliers."
Even though SciQuest does not break out revenue by product, they shared with us that they "serve more than 165 customers operating in 16 countries and offer our solution in five languages and 22 currencies." On the connectivity front, SciQuest customers are working with "over 30,000" suppliers using their network, but they did not break out whether these were indirect (partner) or direct connections. From a connectivity and interoperability perspective, SciQuest leverages the cXML integration standard, which enables any supplier that supports it (i.e., all suppliers on the Ariba network) to connect and integrate quickly with SciQuest as well. They also support EDI, fax, e-mail and online portal delivery of information/documents, including POs, invoices, etc.
We asked SciQuest what non-software services they support and they suggested four distinct offerings. These include, for catalog loading, a capability where SciQuest "loads the content and price files for the supplier" via their support group or enables suppliers a self-service capability to load content on their own. In the invoicing area, SciQuest offers a "a portal through which the supplier can log in and 'flip' a Purchase Order to an invoice, or the supplier can load a flat file with multiple invoices in it. For PO delivery specifically, SciQuest enables fax, e-mail and portal delivery capabilities and suppliers can check the status or retrieve a PO through a designated portal. For e-invoicing (and scan/capture), SciQuest has a "partner strategy that extends into "payable solutions."
For ERP integration, SciQuest supports integration into all popular back-end systems…