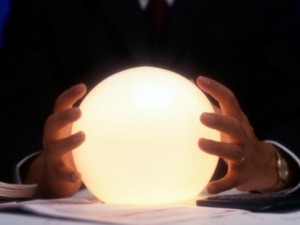 Forecast season is upon us. Yeah, yeah, Christmas and Thanksgiving season too, but this is forecast season. Did you ever think about the etymology of forecast? I think this is broken down the following way.  Fore – as in comes to the front.  Cast as in wizardry and witchcraft and casting a spell – in other words, about the same level of science that goes into some sort of predictive model. Forecast. Voila.  I'm sure that any true philologist will be utterly entranced by my discussion of this word's proper roots.
In order to make room for my 2011 forecasts and so that you can understand the profoundly scientific methodology and approach that I'm taking in this effort, I've once again refined my what I see as rather brilliant (in the sense of light blinding me so completely I can't see anything) formula for the future that I am willing to share with you under any of the creative commons licenses you care to apply to it.
Here it is with a complete revision history – changes/improvements are in bold red.
2009: The Original
eu + gw (l*bl)/i = fw, where eu = eye use; gw = guesswork; l=luck; bl=blind luck; i=intuition and fw = forecast wisdom.
2010: 20x Improvement in Accuracy
(eu*cl) + gw(l*bl)*ts/20 = fw where eu = eye use; cl = contact lenses; gw = guesswork; l = luck; bl = blind luck; ts = total speculation; and 20 of course equals the amount to decrease the inefficiency by because I want to.
Key improvement for 2010: By adding contact lenses, and replacing intuition with total speculation divided by 20, we decrease the inefficiencies by 20x, thus improving the accuracy by 20x.  Logical. I'm so proud.
2011: Increased But Conservative Long Term Forecasting Accuracy
(eu*cl*(ew/2)) + gw(l*bl)*ts/20 = fw/2 where eu= eye use; cl = contact lenses; ew = extended wear contact lenses; gw = guesswork; l = luck; bl = blind luck; ts = total speculation; and 20 of course equals the amount to decrease the inefficiency by.
Key improvement for 2011:  By making the contact lenses extended wear, the long term accuracy of the forecast increases.  Once again, a breakthrough in forecasting methodology, unparalleled in the 18th century. What do you mean this is the 21st century? Yeah right. I believe THAT. I'm leaving. Get me my horse.
One final note before we move onto the look back. I invoke the Pundit Immunity Clause.  For those of you who don't know it, it reads in its newly rewritten 2011 version:
"All pundits are immune from the slings and arrows of outrageous fortune and slings and arrows fired at them by outraged patrons when their forecasts go south.  Despite the failures, We are still permitted complete access to all Pundits Lounges at airports across the world even when the failure rate exceeds 80% But if it exceeds 90% the wi-fi is no longer free."
See, we have skin in the game. Ha.
Okay, now the time to look back at how I did in 2010 – even though the year isn't over. Honestly, enough of it is over and I am so over the year that I think there will be little change post-Thanksgiving. But then again, that's a forecast isn't it?
The format: The 2010 forecast and then my assessment of how I did – which needless to say is totally biased, since I'm assessing me.  Unlike my forecast for 2011  which will be split between ZDNet and PGreenblog so I can publish both halves on the same day, this will be on both blogs – but in full on each.  The Watch List will be multiple posts and also duplicated not split on both blogs.  So be there or be square as some unknown wag once said.
Okay, I've probably exhausted both all my means to procrastinate and all your good will, so I guess we'd better get down to it.  I present to you – the look back at 2010 and how I did.  The ratings are in the same format as last year – mostly. The ones that show I already miss the baseball season. As always, the highlighted particular forecast, my written assessment of how I did with it and some ratings designed for all audiences of all types to understand.  The numbers in the front of the forecast was my confidence in how likely the forecast was to be on a scale of 1-10.
The 2011 Look Back at 2010
(7)Social Marketing technologies and strategies emerge as important aspects of corporate thinking – IF you took this at the surface of it – meaning that you read it with the emotion of the first sentence I think I could probably claim a major victory. But, in the interests of honestly, transparency, authenticity, and all 2010 social buzzwords, in the actual piece I saw an explosion of social marketing in 2010 and that didn't happen. 2010 saw the integration of features and functions that could be called "social" into existing marketing automation suites like Eloqua, or Oracle in their loyalty marketing programs, or even email marketing applications like Silverpop added powerful sharing features etc. Customer interaction engines, like Infor's Epiphany, added dynamic engines that monitored customer's live digital behaviors and adjusted marketing offers accordingly for example. While not strictly social marketing when it comes to sharing or campaigns on major social sites like Facebook per se, these customer interaction engines are monitoring behavior of the explicit social customer, deriving live insights and then using them to push real time marketing offers.  We did see, on the strategy side, a huge upsurge of interest in how to develop strategies and programs that took advantage of the social customer's historic behaviors.  In fact, Marketing Sherpa, in their 2010 Social Media Marketing Benchmark Survey, that every industry across the board planned on increasing their budget for social marketing this year. Almost no one in any industry was going to decrease it.  So, in that regard I was pretty damned right. Almost. Sorta. RATING: Double to left field, one run scores, but Gardner holds up at third. Left-Brainer: 3.75/5.0; Right Brainer: "Not…too….shabby" (Adam Sandler, Hannukah Song)
(9)Mobile CRM becomes a top priority for business and technology vendors – even more than 2009. It did just that. But I'm not sure what it got us.  For example, SAP, in 2009, had a commitment to a partnership with Sybase's iAnywhere platform – now they own it because they bought Sybase. The mobile platform is worth about $400 million of the acquisition.  Salesforce has a mobile Chatter application which consolidates activity streams to whatever mobile device floats your boat. REST APIs are being developed or have been developed by companies like Oracle so that Siebel and the iPad can work together, etc. who are ordinarily focused around service oriented architectures (SOA), are usually created for mobile applications.  Not only that, the operating systems on the table are now digging deeply into RIM's once dominant market share, making the variety of platforms out there – even including Windows 7 Phone, peeps – intriguing for enterprise software cos. I'm not going to say much more since I need something for my actual forecast which will once again predict this – but suffice to say there is no question that the interest rose in mobile everywhere. In fact, Nielsen says that mobile is the fastest growing technology in history when it comes to usage. So there. RATING: There's a line drive to right field, its off the top of the wall! Jeter rounds second he's heading to 3rd….and he's in there with a triple!  Left-Brainer: 4.25/5.0; Right Brainer: "No time for losers, we are the champions…to the end." (Queen, We are the Champions)
(7)Technology companies embrace "social" versions of multiple parts of the enterprise value chain including (and especially) CRM, SCM, and maybe even ERP. This kind of depends on how I interpret it. IF (and I use the word IF in HUGE capital letters) , you take the other parts of the enterprise – the parts behind the firewall – and call "social"  the collaboration features, then I'm spot on. Though frankly, the debate over Enterprise 2.0 and Social Business, which is about as smart a debate as the one that we had as to what SCRM was, meaning not, might derail what I'm saying.  But that aside, companies across the globe in the B2C space more than B2B but in both are working in in internal communities. Oracle, recognizing that this is a true trend, has done an amazing job by integrating enterprise collaboration into their Fusion applications. It's not a plug in or something awkward. It is seamlessly integrated throughout the applications regardless of which app we're talking about – HCM a.k.a. human resources or CRM or Supply Chain. This is in recognition of the social nature of businesses that is now in its early to maturing stages.
But on the other hand, Social ERP?  Nah. Not yet. So how'd I'd do? Depends on the whole "glass half empty or half full" thing.  RATING: A fly ball deep right, to the wall and…caught. But Granderson tags up and scores from third easily. Left-Brainer: 3.00/5.0 Right Brainer: "I'm sorry, but i'm just thinking of the right words to say(I Promise You; I know they don't sound the way I planned them to be (I Promise You); But if you wait around a while I'll make you fall for me(I Promise You); I promise , I promise you I will." (I Promise You I Will, Depeche Mode)

(8)Companies are moving toward creating ecosystems to fill out social CRM portfolios -Looking aback on this one, I suppose this was my way of saying, companies are looking to integrate to provide best of breed solutions since most companies – technology companies that is – are realizing that they can't do it alone.  That said, vendors like CDC Software came out with the opening stages of a suite – that would be Pivotal SCRM – and other vendors like Oracle and salesforce.com are slowly and somewhat piecemeal, putting the full monte in place, so technology partner ecosystems aren't the only game in town. But the social vendors like Lithium, Radian6 etc. are all realizing that they need to integrate with traditional CRM systems and InsideView continued its relentless drive to integrate with everything including the basil plants that are growing inside varying foodies homes – and they've been a happy success accordingly with integrations to most of the CRM standards out there.  So I'm still right but the suite side…