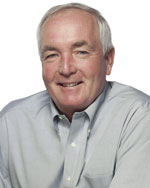 Listen to my conversation with Bruce Richardson, chief strategy officer at enterprise application vendor Infor, and a highly respected industry analyst in his former role as head of research at AMR. This is part one of a two-part interview.
In this podcast, learn what factors lead businesses to move their financials to the cloud and find out which well-known SaaS vendor has yet to make that move.
Listen to or download the 6:38 minute podcast below:
—Transcript—
PW: Bruce, Infor is a pretty big business software vendor serving the mid-market, but I guess some of our listeners may be unfamiliar with exactly what the company does. So just to get us started off, can you give us a few brief sentences to convey the scope of what Infor does?
BR: Sure. Infor was started in June 2002 — so we're just more than eight years old — and one of the ways we've grown to $2 billion in annual revenue and 70,000 customers was by making a lot of acquisitions within the software market. As a result today, we've got a line of ERP products: supply chain, CRM, product lifecycle management, HR, business intelligence; and performance management, enterprise asset management, expense management. We also have solutions for specific verticals: hospitality and public sector. So if you can think of a product category, it's an excellent chance we have a product for it.
Right, okay. And obviously, you're looking at competing up there with the big names in the industry. And one of the interesting developments in recent weeks is that you now have a new CEO, Charles Phillips, who until a few months ago was president of Oracle — so obviously, a very big name in the enterprise software world. And does having Charles Phillips on board mark a change in direction for Infor or is it designed to reinforce what you're already doing?
Well, to be honest, Phil, it's really hard to say. He doesn't start till December 1 and I've only had a brief conversation with him. But knowing how he works — I knew him when he was a top enterprise software analyst while at Morgan Stanley and I've spent a fair amount of time with him while he was at Oracle so I think I have some insight into how he works. I just mentioned that we have a really broad portfolio of products and I'm guessing that what he's going to do is narrow the focus. One of the things that you can't help missing is, every story that mentions Charles Phillips coming to Infor mentions that we're the largest software company you've never heard of. So I think he's going to narrow the focus so that we're definitely associated with some of the fast-growing products.
Right, okay. And yes, I think getting on the radar screen and making sure that people know what you're up to is very important. Something else I know that has been a big part of the strategy for Infor recently, and one of the reasons why we're talking today, is because of the move to software-as-a-service. Do you think that's now going to start to become more mainstream in the enterprise application space?
Well, it's funny, if you would've asked me a year ago when I was an analyst how I thought the cloud market, SaaS market, on-demand market would take off, I would've told you that I thought ERP, financial applications, order management — sort of the crown jewels, the stuff that companies most want to protect — I would've told you those would be the last applications to go over to the cloud. I'm actually surprised by the amount of interest…