I'm one of these Americans — I'm sure there many of us, but most are ashamed to admit it — that secretly looks forward as much to the actual turkey itself on Thanksgiving (replete with the trimmings) as the family conversation around the table. There's something about a nearly dry, but hopefully not overcooked bird combined with the culinary accoutrements that is irresistible even to someone like me who generally strays away from poultry and meat. But this indulgence does not have to cost very much
money. In fact, for many stores it's a big loss leader.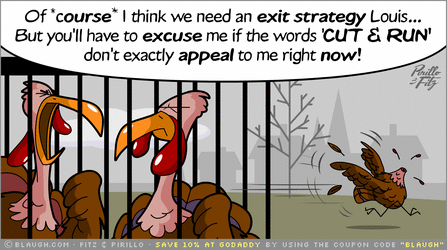 At a Forrester even in Chicago a couple weeks back, some analysts told me that the actual price of turkey on a per pound basis during the Thanksgiving season has to be one of the most carefully guarded secrets in retail. Get the price too high and you're stuck with fewer consumers walking in the doors (and potentially a whole lot of extra birds on your hands). Get it too low, and you'll be out of stock within hours or days without the ability to reorder what you need. It's an extremely delicate balancing act, especially for large grocers or big box stores with a grocery section (organic and free range birds present an opportunity to make some real margin, however).
Unlike the unfortunate turkey — and the retailers who must bet heavily on the per-pound sticker number — my suggestion to everyone this Thanksgiving is not to make that dirty bird a loss leader for your family around the dining table. I've spent many Thanksgivings either leading the efforts in the kitchen or playing a key sous-chef/dishwasher role and the stress levels that can result from getting things wrong (e.g., lumpy gravy) and simply preparing such a feast can come with a family price in less time spent with those who have gathered together for the meal.
So find a way, if you can, to plan ahead (this morning, this afternoon) and think about everything you need to pull the festivities off. But then think about how you can do it in a way that maximizes the stress-free time you and everyone else attending the feast can spend together around the table. And don't let that turkey be a loss leader for that commodity which we'll never have enough of — time with those we're close to.