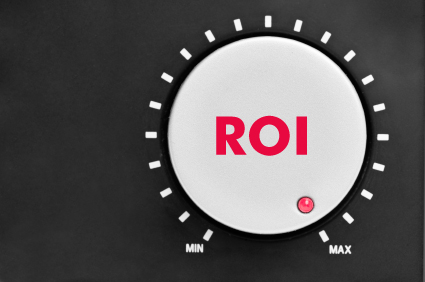 According to the latest IDC Social Business survey approximately 41% of businesses surveyed have already implemented an enterprise social software solution. In a market (social platforms) that is growing ~38% CAGR over the next 5 years, quite a few of the other 59% will likely be following their peers shortly down the path of enterprise social bliss. Because of the rapidly growing interest in social software and the already substantial number of businesses using these solutions, value and return on investment (ROI) are hot topics these days. A lot of the growth in this market happened over the last 24 months so while the use of the systems is still fairly new there is an established track record that could give us some idea of value. A lot of the next round of businesses that will be implementing social solutions are looking to build a business case as justification for the projects. This is perhaps somewhat of a new approach since many of the first generation of implementations were initiated as reactions to grass roots social efforts that eventually pushed the business into embracing a broader social solution. I've called these businesses "accidental socialites" in the past, and now they've moved into the "consciously social" category. While the accidental socialites category continues to grow (often to the chagrin of the IT department) more businesses are making a conscious decision to deploy social solutions and I expect this group to grow rapidly over the next few years. All of this just puts more pressure on businesses to develop a more sophisticated approach to the business case around social projects.
There are a few problems (or perceived problems) with social ROI though. The first is an issue created over the last few years by some so called experts (or is that self proclaimed experts) that came at social from other than an enterprise business direction and have loudly espoused the idea that social is different and that you can't calculate social ROI in a standard business way. In my opinion this line of thinking has caused a huge loss of credibility among traditional business leaders who look at business and IT projects through the lens of value and ROI. To these "experts" I say bull, if you can't calculate the value of any project or initiative then why would you do it? As a business that's an absolute must.
The second issue is that some of the metrics that we need to look at for social projects are somewhat different from traditional IT metrics. This is only natural that we'd need to look closely at what metrics can be used to establish value from your social projects. In the end though, even with some new metrics to measure, we have to tie back to revenue, costs, quality, and innovation.
To help with this ROI issue and clearly establish our position on the subject I have worked with two analysts on my IDC team, Erin Traudt and Mary Wardley and two industry colleagues Kathy Hermann and Dr Natalie Petouhoff to develop some detailed research on ROI for social business initiatives which we have added to our Social Business Research at IDC. We have decided to offer that document as a free download on the IDC web site, download it here. In the document we clearly lay out the current social ROI myths and debunk them by applying traditional ROI processes to social projects. From the document we establish pillars of economic analysis for social projects:
Pillars of Economic Analysis: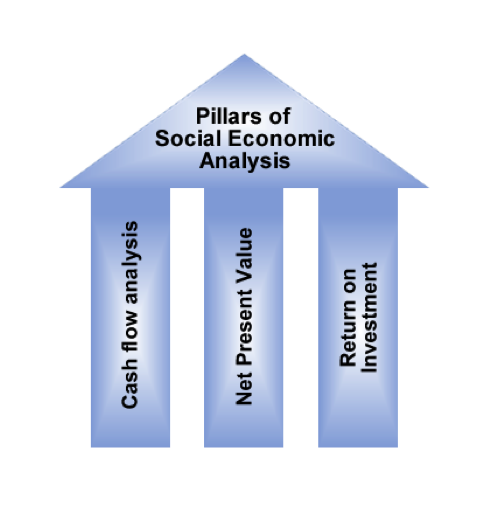 Copyright 2010 IDC, Kathy Herman and Dr Natalie Petouhoff
And from those pillars establish clear social gains versus costs: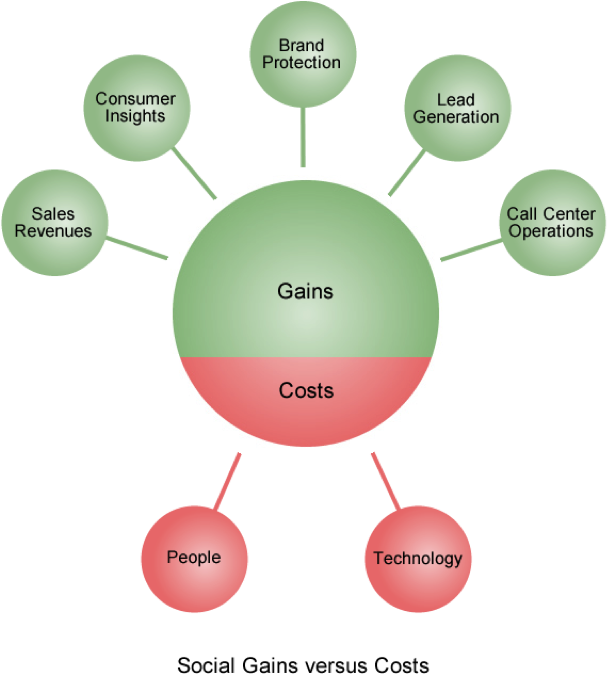 Copyright 2010 IDC, Kathy Herman and Dr Natalie Petouhoff
This is only a short look at social business ROI, for more take a look at the document itself and feel free to contact us if we can assist you in developing your social project business case.