Savvy CIOs are developing themselves into Cloud-enablers by honing their sourcing and service integration skills. Our Cloud Business Services study, conducted in conjunction with the Outsourcing Unit at the London School of Economics, contrasts many differing views and expectations from business and IT executives about Cloud business services… however, both sides do agree on one thing—the crucial enablement role that IT executives must adopt to provision Cloud business services.
While business execs are more gung-ho on Cloud than their risk-averse IT counterparts, both sides agree on who should enable this – it's going to be IT. The survey reveals that 42 per-cent of business respondents expect to rely extentively on their own in-house IT function to implement a move to the Cloud: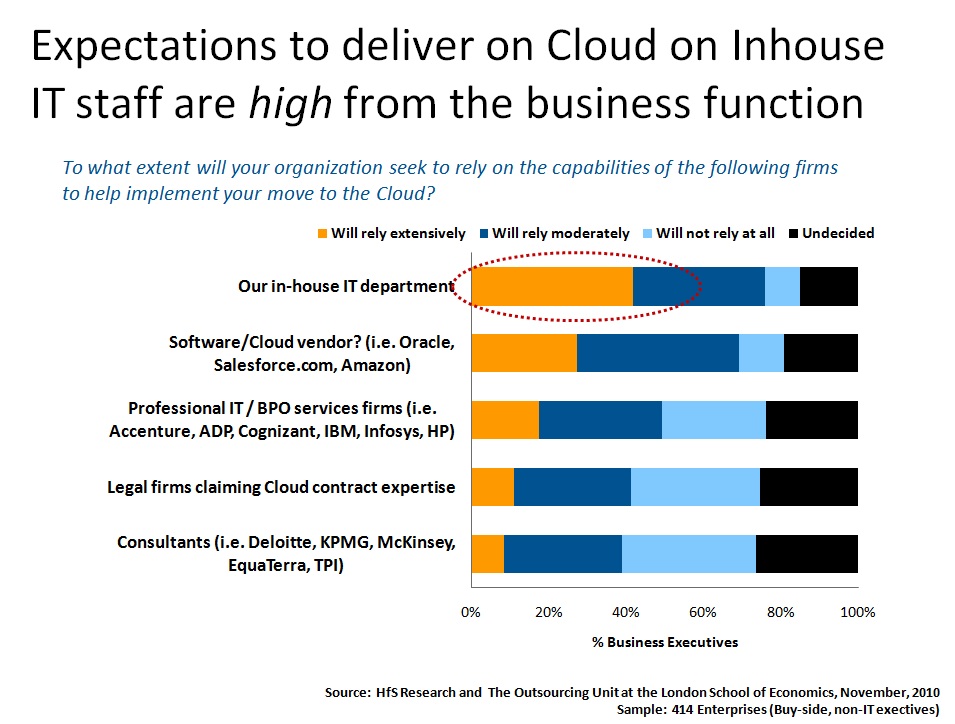 Click to enlarge
The bottom-line:  Cloud business services creates a massive opportunity for the IT department to realign itself to the business
HfS sees the future of the inhouse IT  as being the conduit between the business  and the providers delivering Cloud business services.  The successful IT executives will be those who develop governance expertise in sourcing and service integration to make Cloud a reality.
Business stakeholders want Cloud and they know savvy CIOs can mitigate its risks.  However, HfS believes IT professionals must tool-up to deliver cloud to their business stakeholders, otherwise risk a gap growing between business demand and IT supply. Tooling-up for the Cloud calls on CIOs to develop new internal skills and to embrace  third-party expertise to accelerate the sourcing of Cloud services.  Security, compliance and integration are huge issues that predicate success with Cloud, as our survey will reveal when released later this week. Running due diligence on service provoders is critical to ensure any potential cracks in service delivery don't cataclysmically impact performance.  Stay tuned for more.