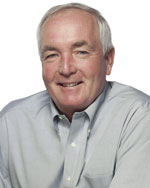 Listen to the second part of my conversation with Bruce Richardson, chief strategy officer at enterprise application vendor Infor, and former head of research at analyst firm AMR. In part one, we discussed Why Enterprises Move ERP to the Cloud.
In this podcast, learn about some of the advantages of SaaS for enterprise applications and find out why most companies nevertheless are going to be running hybrid on-premise and cloud environments for a good many years yet.
Listen to or download the 7:12 minute podcast below:
—Transcript—
PW: Before the break, Bruce, we were talking about software as a service and some of the ways in which companies are adopting SaaS. A lot of the talk about moving to the cloud is all about what can go wrong, but I think that perhaps we should focus more on the benefits. Do you see from Infor's customers what some of the positive elements of moving to the cloud and SaaS actually are?
BR: Sure. Well, I think there's several. The first one that everyone mentions is the fact that there is no cap-ex, or capital expenditures; that you're not having to worry about buying a big enough server, or enough storage, or doing the database provisioning or all of that. You don't have to hire additional IT resources to be able to run that application. Basically, all you need is a browser and a trusted SaaS or cloud provider.
That said, just because you're running the application on the cloud doesn't mean that you start running that application tomorrow. The physics of software still apply. You still have to migrate data from one system to another. You still might want to do some business process reengineering, as you're starting to put the new systems in. There's still a little bit of training, even though most of the cloud apps are designed to be more consumer-like versus the classic enterprise software, where you look at it and say, 'Oh my God, this is not Amazon.com or online banking — I'm going to have to have a PhD to figure this stuff out!'
So while there's the benefits of cap-ex and lower IT cost, I think it's important to point out that you still have to do the traditional things of implementing software, even if it's all running in a data center that's far, far, away.
Right, and particularly when you're talking about these core business systems, where it's vital that the processes are properly checked out and are actually doing the jobs that the company needs doing. But I think the example that you were giving earlier — of a company that wanted to deploy financials to subsidiaries where they didn't necessarily have the staff on-site — that's a great example of where going SaaS and cloud can really be beneficial, because it can cut your costs a lot. And you've also got the standardization, haven't you, across those sites?
Yes — and the best part is they're all running on a single system. So, even though it's six sites, they all look the same, they're all sharing the same approved vendors, they still have all the business processes that you're running at corporate. So you do have a harmonized environment and you're doing it at much lower cost.
And actually one of the things that I think I've seen Infor talking about is reporting. I guess having that single instance that everyone is running from means that you can do quite interesting things on the reporting side.
Right. Well, we have a new product that we announced this summer called Infor ION — and it's hard to describe. We've described it as an integration platform, and that doesn't really describe the architecture or what it supports. But one of the capabilities it has is…