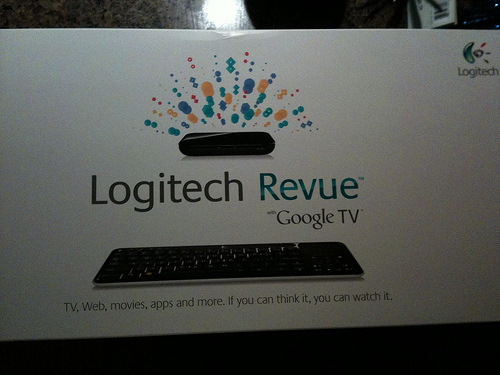 Wherein I review my experience using the Logitech Revue more as typical user instead of talking about the usual industry dynamics and all that analyst hand-wavey stuff.
If you've ever wanted to browse the web on your TV you should get a Logitech Revue, one of the Google TV boxes available on the market. Other than that, it's a bit of a bust for myself. The available apps are anemic and generally advertising and pay-wall oriented. Hulu, of course, doesn't work. The crown jewel for any WebTV 2.0 is the Netflix application which, here, is sufficient, but not as good as the Roku's Netflix app. If Skype was on the box for Skype video chat, there might be another benefit beyond browsing the web on my large flatscreen, but instead you have to buy the Logitech webcam or (at least) use their own video conferencing system.
If there was content worth searching for, I'd blow out my keyboard typing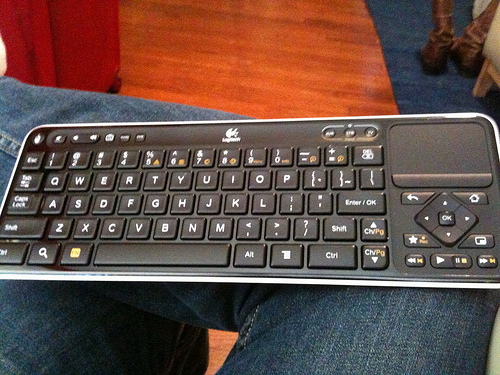 The conceit of the Google TV, as far as I can tell, is to move you towards two things: using search for everything and having the smart phone app experience on your TV. Technically, both of these seem to have been accomplished. The issue is that there's little content out there that compels me to be interested in consuming through the Google TV. Searching the web for video content brings up the usual collection of am, pro-am, and profesional video. The quality on a large TV is even worse than a small laptop screen. While YouTube's "Leanback" interface is great for the form factor, most other video is still in a web page. And, really, browsing a web page on a 48″ flatscreen TV is not really too cool. It's the opposite, though equally frustrating to use, experience of browsing the desktop-web on your tiny screened mobile device.
As far as I can tell, the search doesn't interface with Netflix, which would be where I'd really want to search. The search does bring up Amazon on-demand videos, which is great, but Netflix would be greater.
TV
I have to be honest: I don't have cable. I generally think broadcast/cable TV is utter crap and a waste of time and money. We save about $1,200 a year by not having it. (We don't watch sports, so we're immune from the last, lock-in reason to stay with cable.)
As such, I didn't test out the DVR functionality. In the utopic view, I can see that tight DVR integration on the Google TV would be awesome, actually. But, barring me paying that $1,200+/year, it's just not something I care about.
Video-on-demand: Netflix, Amazon, others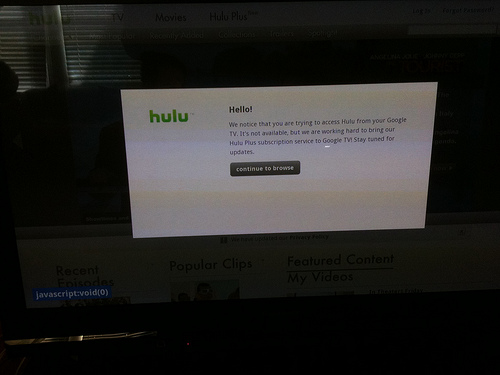 Many folks have long said that we'd gladly pay for legit content given the chance to pay and consume it in a more "digital" way…