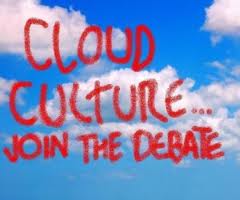 I spent the past week in the clouds attending Salesforce.com's Dreamforce conference. Salesforce likes to categorize its products into different "clouds", like sales cloud (sales force automation), service cloud (customer service system), data cloud (crowdsourced contact data), etc.  In fact almost every conversation on the future of IT these days includes some conversation on cloud computing, although often the definition is somewhat in dispute. IDC has a very specific cloud definition; cloud services are consumer and business products, services and solutions delivered and consumed in real time over the Internet with these attributes:
Shared standard service built for a market not a single customer
Solution packaged turn-key offering
Self-service admin
Elastic scaling
Use-based pricing
Accessible via the Internet / IP
Standard UI technologies
Published service interface / API
The cloud services can be deployed in a public or private model as well (although this is one of the areas where there's a bunch of debate, particularly between the pure-play SaaS vendors and the hybrid vendors).
Oh well, that's not really where I was going with this post anyway. After Dreamforce I had the opportunity to stop by another event, GigaOM's Net:Work conference. I only had half the day to attend and spent most of that time meeting with a couple of companies but the topic and my conversations that day sparked a few ideas that I want to examine more closely. One of those conversations was with Elance CEO Fabio Rosati. Fabio and I have chatted a few times about the changing nature of work and workers in the post-industrial information economy. A lot of what Elance and Fabio are seeing in this space are in line with a post I did a while ago on virtual workforce and then followed up in another post with a trend I called labor as a service. At the conference they were using the term human cloud and the more I think about it, despite being a bit over-exposed to clouds last week, I think this one might be a good fit.
In the new networked economy businesses are realizing that people are the center of and the essential nodes that make the business work. Connecting those nodes has never been easier with the proliferation of new mobile devices from smart phones to tablet computers and increasing broadband speeds. Web 2.0 social tools and the hyper-connected workforce is eroding many old work paradigms ranging from work "location" to work "hours".  The virtual workforce trend, from both the companies desire to get the best talent with the least downside exposure, and the workers who are enjoying the increased flexibility and freedom the model affords (even if their initial trip into the virtual workforce was involuntary) is gaining momentum. Companies like Elance and oDesk are seeing rapid growth in both high quality resources available for assignments and in companies looking for talent. The nature of sourcing the work is changing. Project based work is a natural for the virtual workforce (or labor as a service model) and effectively gets high quality talent engaged on the critical project tasks. Even highly repetitive task based work is finding online support from business models like Amazon Mechanical Turk.
So if businesses are in reality becoming the network and people the critical nodes it makes sense that we start thinking of the workforce as the human cloud I think. The human cloud is:
Flexible in model (direct employee or contract; task based, project based or position based; various pay models from pay for task, pay for project, salary, performance based, etc.), location (work where you are models when appropriate), and time (in a global business environment time and time zones will be under stress and businesses will look for employees to work when it makes "sense").
Utilize mobile technology to stay connected to one or several business networks.
Utilize web 2.0 like people-centric collaboration tools and techniques to increase productivity and engagement
Associate personal brands with business brands to gain synergy and greater influence and reach
Agile
Elastic
To me cloud services and the human cloud seem to have extremely similar components. The human cloud joins the other enterprise clouds to form the next generation business, or organic business network.