Reduction Of Shelfware Remains A Key Pillar In Legacy Optimization Strategies
Shelfware (i.e. purchased software, not deployed, but incurring annual maintenance fees) is one of the biggest drains on operational expenses for enterprises.  In the latest Software Insider survey, 57% of global enterprises own more software licenses than deployed.  With average maintenance fees hovering above 20% per annum, customers who own shelfware pay the equivalent of a new license every 5 years without receiving any business value.   In fact, past Tuesday's Tips have discussed three effective contract negotiation strategies to return shelfware.  As customers continue to raise ire over the shelfware issue, many vendors have responded with penalty-free opportunities to exchange shelfware for new licenses, park shelfware for usage at another point in time, or allow customers to return licenses to reduce their annual maintenance burden.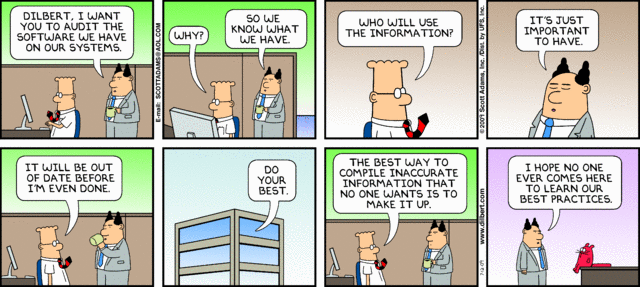 New "Cancel And Replace" Programs Muddle The Shelfware Issue

In the last three quarters, a few legacy enterprise software vendors have offered their top customers a new model known as "cancel and replace".  As a "one-time" only opportunity to cancel shelfware without penalty, the program has a catch.  Clients must purchase new licenses at a level that will maintain or increase the annual maintenance fees.  While ridiculously, obviously, self-serving, one vendor has performed "free assessments" to let customers know the amount of shelfware eligible for cancellation and identify areas where new license spend can be increased.  The rationale – to help customers stay in "compliance".
The Bottom Line For Customers – Focus First On Reducing Shelfware Before Engaging In New License Spend
While new license purchases often provide the leverage to discuss shelfware reduction with a vendor, clients should remain focused on reducing annual maintenance costs.  As with any software purchase, there must be a business justification in the overall apps strategy before adding new licenses.  In seeking the right approach to maintenance contract negotiations, customers should the following tools and techniques:
Third party maintenance options
License exchanges
Parking licenses
Returning licenses
Avoiding the bundling of maintenance contracts
Clients should consider "Cancel and Replace" options if they truly have a need to make a significant new license spend commitment and can no longer leverage license exchange rights.  All others should attempt other techniques that drive down opex.
The Bottom Line For Vendors: