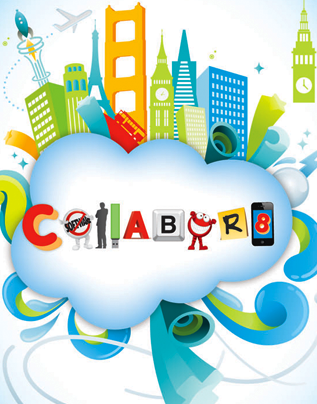 Long gone are the days when Dreamforce was a smallish conference devoted to SaaS; the first conference 10 years ago had fewer than 1000 attendees. This year's conference had over 30k attendees (business users, IT users and vendors) almost 70% higher than last year's. The lines in and around the Moscone, the hotel rates and the jammed restaurants, bars and parking lots around the conference venue provided adequate proof of the high attendance. This was an event of high importance to Salesforce and even to SaaS in general. My impressions:
1. Based on the attendee affiliations (small and large companies, business and IT users, foreign and domestic delegates) the event provided additional proof that SaaS and cloud computing have penetrated the enterprise for good, as several of us have been predicting. Sarah Friar of Goldman Sachs calls it the "unstoppable SaaS wave."
Heroku is very significant acquisition for Salesforce. In addition to the development environment it provides, 1m Ruby application developers that are Heroku's community, including developers of mobile applications, can be channeled toward the platform Salesforce is putting in place.
2. The introduction of database.com along with Heroku's Ruby-based development environment now position Salesforce among the premier PaaS providers along with Microsoft, VMWare, and maybe even Red Hat thought its acquisition Makara. This is a significant development since Salesforce's force.com platform and APEX language alone were not adequate to provide a general purpose, world-class PaaS. In addition, because of its applications heritage, Salesforce has a wealth of application know-how that it can reflect to its PaaS, whereas companies like Microsoft and VMWare must rely on their third party application developers to acquire the corresponding know-how. Salesforce needs to work quickly to integrate together all its pieces (Chatter, Jigsaw, force.com, database.com, Heroku tools, etc.), in the process defining and exposing the right APIs. In this way developers will be able to create applications for a variety of tasks and complexity, not just CRM-related applications as was the case with force.com. It was already announced that objects and services (application and platform) will be exposed through SOAP and REST APIs. Developers will not be restricted to program only in Ruby but will be able to use any language like Java, C# and PHP. They will also be able to create their own data models. Moreover, by opening up its PaaS, Salesforce will allow developers to use applications developed in other similar platforms like Azure.
3. The announcements of additional "clouds," such as the one for web site development, prove that Salesforce continues to have a strong vision for where SaaS and cloud computing can go.
4. As we've seen in previously published surveys, security is no longer the top concern for SaaS adoption. Data and application integration have claimed that spot indicating that we are moving to a phase of trying to make on premise systems work well with the cloud-based ones. The presence of several of the major Indian and Chinese IT outsourcing companies all of which had big booths at the show indicates that the they now see a significant opportunity around systems integration that involves SaaS applications.
As investors we are excited particularly about the PaaS announcements. The emergence of another strong PaaS and the competition it is bound to generate among Salesforce, VMWare, Microsoft, Red Hat, and potentially Google, will be beneficial on two fronts. First, the competition will result in further PaaS innovations. This is obviously good for SaaS application developers who will consider more seriously a PaaS as a viable alternative on top of which to develop a new SaaS application. The improved capabilities of PaaS platforms will also accelerate application development resulting in the creation of new, and most likely, innovative packaged SaaS applications; the type we as investors like funding. The competition among PaaS providers will not only good for the continuing penetration of SaaS applications, but also for lowering the operating costs of deploying and supporting a SaaS applications, thus improving the application vendors' margins. While the PaaS pricing announced by Salesforce announced for the PaaS are on the high side, particularly for smaller ISVs, I expect that competition will lead to lower prices. My only concern from Salesforce's PaaS-related announcements is whether the company can develop the right DNA and evolve into an infrastructure company to ultimately implement the world-class PaaS it announced, since at heart it is still an applications company.