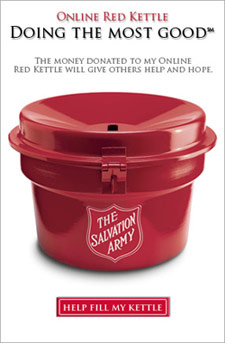 Every year the Salvation Army helps countless individuals and families by providing shelter, food, clothing, and all with a caring smile. This year the economy and weather and creating need that far surpasses years past and this year I have once again established an online Red Kettle and a goal of raising $1,000 for the Salvation Army.
I'm off to a good start and am confident that with your support not only can we meet that goal but surpass it. Please click on the Red Kettle sidebar widget to the right and help me reach my goal.
Thank you for supporting the Salvation Army.