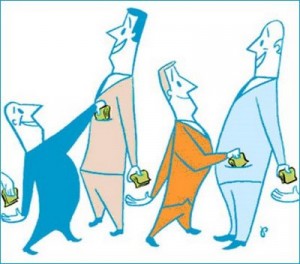 ERP vendor, Infor, announced a referral program encouraging consultants and other industry influencers to bring the company anonymous referrals in exchange for a 15 percent fee. This program appears to undermine the foundation of trust between advisors and their clients.
Here is the relevant section from Infor's email annoucement (emphasis added):
This program creates new opportunities for industry influencers, independent sales professionals, and professional services firms, by letting you anonymously refer your clients to Infor for world class business software. In addition to getting up to a 15% referral fee for any company you refer to Infor that becomes an Infor customer, our referral partner program will allow you to offer more services and establish a long-term relationship with your clients and business associates.
The terms of use (core and supplementary) do specifically state that conflicts of interest are not acceptable:
Referring Company and you represent that submission of the Lead Registration Form does not violate any legal obligations to which Referring Company or you are subject, and that neither Referring Company nor you has any relationship with the Prospect or Infor, or any of their personnel, that creates or could create a conflict of interest.
However, in my view, these terms are disingenuous for two reasons:
Since anonymous referrals are acceptable, the prospect has no opportunity to decide whether the referral violates a conflict of interest.
The anonymous aspect obviously is intended to keep the referral hidden. If there is no real or perceived conflict, then secrecy is unnecessary. In other words, if everything is above board, then why hide?
Although I am sure Infor would disagree, this program seems designed to encourage influencers to take unfair advantage of their trustworthy position. The program may backfire on Inform, as influencers seek to distance themselves from the company.
One research analyst, Hyoun Park, said he can no longer refer Infor and remain a "credible analyst:"

Top analyst, Naomi Bloom, called the program "creepy:"

Consultant and author, Vinnie Mirchandani, wrote:
This offer from Infor to earn referral fees for anonymously introducing them to potential customers has many industry analysts and influencers agape. It offends their sense of independence and the âanonymousâ part goes against their desire for more transparency in technology markets.
ZDNet's Editor-in-Chief, Larry Dignan, summarized the issue:
The key item there is the anonymous part. How is an influencer or consultant supposed to keep the best interest of his or her audience/customer if heâs collecting referral fees without disclosure?
Advice to Infor: This program represents poor judgment in the extreme; kill off the promise of anonymity now.
Advice for enterprise buyers: If a trusted advisor pushes you toward Infor, ask whether he or she is part of the anonymous referral program; if so, that person's referral is suspect. Buyers should demand full disclosure from all trusted advisors.
Related articles