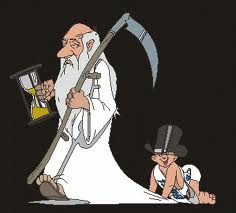 As father time creeps toward rebirth I'm spending some time looking back at this year. It's something of a tradition now (okay, I've done it for
2 years
, that's sort of a tradition) to take this time between Christmas and New Years to reflect on our predictions for the year and how things came out. For the past 6 years I've taken this week as vacation with my daughters, a time I really look forward to. I don't "work" this week, but this is the exception…although I don't really think of my blog as work anyway.
2010 was a year of change for business as we came out of a very tough 2009 and tried to redefine ourselves and what we called the "new normal". Tech and business trends that were percolating over the last few years started to have significant impact on the way business is done. The way we build and consume technology is changing. Maybe even more important the way many companies "do" their work is changing. The Internet has grown up and the resulting hyper connectivity and availability of real time data in ever increasing volumes offers businesses many new opportunities and challenges. And speaking of real time, communication and collaboration are both being redefined through social technologies. The next few years are critical change years as businesses restructure to compete in an information driven economy and move away from the industrial past.
So what did my IDC group predict for this year and how did we do?
1. The social business movement gains momentum through the cultural shift that is enabled by social enabled applications that are formed from the intersection of collaboration, content, search, communities, CRM and the current web 2.0 tools like blogs, wiki's, microblogs, etc. with 50%+ of the Fortune 500 initiating social business projects this year. Grade: "A", our surveys easily show that we met the 50% benchmark. "are we there yet", well, no, but social has continued to gain momentum and all of these elements, collab, content, search, community, etc. are converging at an ever increasing pace and creating a huge change wave in the enterprise.
2. Software vendors, recognizing that "one size does not fit all" with partner programs, will move to an a-la-carte benefit structure versus a long list of perks with diluted value. Grade: "B+", We're seeing this approach more and more in large vendor partner programs. A-la-carte / giving the partners the ability to choose those benefits that are most interesting to their business is popular with the partners and provides a much more efficient program.
3. The great divide will come to an end between horizontal and vertical applications for the enterprise. Grade: "F" Sometimes you're just wrong. I think this is directionally sound but in practice enterprise apps are complex and take many different approaches. More vertical focus is permeating all apps but some apps have a broad horizontal appeal and some need more vertical depth and differentiation, that's just the way it works for now.
4. As a fundamental part of the Social Business transformation businesses shift their focus from technology and process to people, who in effect become the new enterprise platform. Grade: "B+" That this is happening I do not believe we can argue. People are the center of everything from the new type of collaboration tools to the business networks that are growing into the new way of doing business. The question is one of where we are on the journey, not are we making the trip IMHO. We're not there yet but we've started the car, backed down the drive and are heading up the on ramp…
5. Cloud infrastructure computing moves squarely into the mainstream as a significant number of the Fortune 1000 companies adopt the utility computing model demonstrated by moving a portion of their "sandbox" apps into production on public clouds. Grade: "A" All the variations of cloud computing are getting a lot of attention in the enterprise. SaaS or cloud apps are certainly mainstream and seeing really strong growth. Infrastructure as a service (IaaS) lags this some but this past year saw many IT shops moving some or all of their operations into cloud based infrastructure. The approach is mainstream now and is spreading rapidly for new projects. The place that it lags is in existing deployments, where many companies are not spending money to make any changes for now. Over time many will make the transition to cloud for existing systems but this will take a backseat to new deployments.
6. In response to a productivity spike, VARs, SIs and ISVs will turn in force to contracting (virtual staffing) and partnering. Vendor programs will adapt to support these new models. Grade: "A" The human cloud approach is widespread and seeing a big uptake across businesses so it's no surprise that software VAR's, SI's and ISV's would leverage this as well. This hybrid business approach is a competitive advantage to business while also providing a better lifestyle for many workers. Look for this approach to grow substantially over the next few years.
7. "There's an app for that": Mobile becomes the new enterprise desktop with more than 50% of US workers accessing applications via a mobile device. Grade: "A" The explosion of smartphones and the success of tablets led by the iPad this year is a fact and employees are increasingly bringing them into the workplace whether IT supports them or not (we call this the "bring your own" workforce). The hyper connected, real time world is mobile and employees want to work where they are so it's natural that this trend will continue. Businesses are deploying and supporting more ways to access corporate assets from the mobile and software vendors are getting on board by providing better optimized mobile apps. Apps stores are accelerating deployment and adoption as well. Technologies like Citrix's mobile virtualization product, Receiver, also provide an excellent alternative for businesses by virtualizing corporate assets for mobile access.
8. The 'new normal' will give rise to increased end-user buying power causing extreme pressure on existing vendors to mold offerings and giving opportunity to aggressive suppliers. Grade: "C+" There was certainly price pressure on software vendors this year from businesses that exercised their increased leverage but I don't think this played out to the volume level we expected.
9. A software industry shift toward subscription models will result in a nearly $7B decline in WW new license revenues in 2010. Grade: "A" What can I say, SaaS and other subscription pricing models are taking money out of the traditional license pool. Companies chose subscription models much more often during the downturn and have continued to find this method of payment attractive. Capital budgets are still tight and so paying for SW from the operating budget continues to be popular. I don't see this changing anytime soon, let's call this the new enterprise SW buying paradigm.
10. Cloudsourcing becomes a major alternative for companies looking to outsource non-core business processes (software-in-a-service). Grade: "B-" This is happening but I'd not call it mainstream yet. Cloudsourcing got a lot of attention this year and many companies are looking at it as a viable option for outsourcing processes. I think this will continue to be attractive as companies reassess how they get work done in the new competitive information driven environment.
So there you have the look back, all in all not bad for 2010. Look for our 2011 predictions early in January. Happy new year everyone!