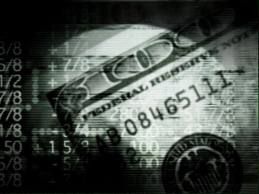 Not surprisingly in 2008 and 2009 exit activity for venture backed tech companies was very slow. Last year that activity seemed to have picked up, mirroring the overall improved business environment. I try to keep track of most of the tech M&A and IPO activity, especially in software and Internet sectors but I hadn't really done a tally of VC backed companies and my curiosity was peaked today by a post on the Wall Street Journal blog. Doing a little more research it seems that M&A activity for 2010 was almost double 2008 and 2009 and IPO's came in at near 5X the prior year. According to Dow Jones there were 62 acquisition of web based start ups totaling a little over $4B and 46 VC funded companies with an IPO. In fact the total exit activity, around 514 companies total, is near pre-recession 2007 numbers. The activity is encouraging and a good measure of the extent of the recovery of course, but it also is interesting for other reasons. Not only did the deal flow volume increase but there was a shift in acquiring companies. In 2009 Oracle led the list, acquiring 5 VC backed companies but fell out of the top 10 with only 2 in 2010 (not surprising considering the level of attention it needed to close and integrate it's $7.4B Sun acquisition). In 2010 5 would not get them the 1st place slot however. The following chart shows 2010 leaders (source: Dow Jones VentureSource):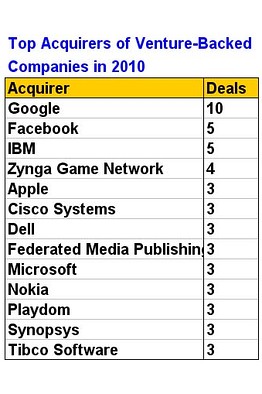 As you can see Google was by far the most acquisitive company, doubling both Facebook and IBM. Google had signaled as much in 2009, when CEO Eric Schmidt stated that they were planning large and small strategic acquisitions for 2010. Aggressive acquisitions in this case mirrors an overall more aggressive Google, looking to expand beyond it's ad-based businesses into other adjacent areas. What did it acquire:
Mobile: Remail (mobile email), AdMob (mobile ads), Simplify Media (desk top SW for mobile music management)
Video: Episodic (although this could be mobile as well, online video management platform)
Ads: Invite Media (display media sales platform)
Social: aardvark (human based crowdsourced answers), Metaweb (Freebase, entity graph of people, places and things – Google uses for improved search results), Slide (community driven entertainment), Jambool (Social Gold – virtual goods monitization platform)
eCommerce: Like.com (visual shopping search)
(Note: includes only VC backed deals that closed in 2010)
Absent from the list, Google's 2 high profile attempts to get into the local market, first with Yelp and then with Groupon.
Another sign of changing times, 2 of the top 4 acquirers are VC backed themselves, Facebook and Zynga…a testament to how hot social remains.
So what's in store for 2011? More IPO's for sure, 44 companies have already registered, which is almost double the number this time last year. Also Facebook has been clear that it plans to be an aggressive acquirer this year, so they might give Google a run for first, although I don't expect them to slow down either. As for as hot areas, I think there will be quite a bit of consolidation among social start ups, both among themselves (mid-size companies filling out product portfolios) and larger companies getting into the social business market. I'd also expect to see activity in mobile and in commerce. In particular I think companies will look to build out new commerce experiences that include merge online and physical, and include social, mobile and context aware elements. All in all there's enough momentum that 2011 should far exceed 2010 in both M&A and IPO's.