It took five years, but the personal computing nirvana vision I first heard from Zoho CEO Sridhar Vembu is becoming reality. The concept that I discussed in The Cell-Phone Aware PC May Be a PC-less PC, and other posts is simple.  Instead of a plethora of situational devices with redundant computing capacity, carry around just one powerful mobile device, which:
brings connectivity, the browser and personalization, with
data and apps in the cloud, while
the actual devices we interact with are inexpensive displays and keyboards (and other peripherals) that come in various shapes and sizes, truly focusing on usability, ergonomics and convenience.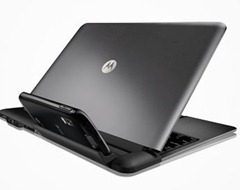 The first product that gets quite close to the vision is the Motorola Atrix 4G.
It's a super-duper dual-core screamer with great screen, extras like a fingerprint scanner..etc – but none of that really matters, as such specs will no doubt will be superseded in the non-stop mobile arms race.  What matters is the docking station – which is a laptop.  Or to be exact, a shell of the laptop: keyboard, display, battery.  In other words, peripherals: the computer is the smartphone itself.
This is quite close to the vision, but not quite Nirvana yet… to get there, we'll need lots of these shell peripherals in various form factors, available in all public places, with a universal dock that accepts all phones.  Yes, I hear ya' … dreaming… but hey, have you heard the European  Commission will mandate standard cell-phone chargers? 😉