(Above: Wordle tag cloud of Steve Ballmer's letter on BobMu leaving.)
Microsoft's Bob Muglia is leaving Microsoft later this year, and he seems like the decision wasn't entirely his, as CEO Steve Ballmer put it: "I have decided that now is the time to put new leadership in place for STB."
It's always rash to speculate on executive departures. Whether it's a "disagreement over strategy" (kind of like "artistic differences?"), failure to perform, pursing "new opportunities," or just "moving on," you never really know Speculating the reasons early on are little more than a fun parlor game (which is a fine, bike shed way to spend time if you're looking for entertainment).
But…since some people have asked, here's my speculation free commentary:
A good track record
Without a doubt, "BobMu" has a good track record, helping build up the $15B business that is Microsoft's Server and Tools Business. Data centers and the IT department being an otherwise "boring" (compared to XBox or consumer Windows) money-maker, cloud computing has pushed this category of IT into the forefront, in addition to the usual data center and IT department needs which haven't suddenly gone away. From the number of times Ballmer mentions cloud in the email (four), and how he mentions it ("Once again, Microsoft and our STB team are defining the future of business computing"), you can see that cloud computing is a big deal for Microsoft, as it should be.
Muglia has always struck me as one of the more personable and smart executives out there. His "fire-side chats" at analyst events are always fun, interesting, and full of good, useful tidbits. A little while ago when I spoke to a reporter about IBM's Steve Mills, Muglia came to mind as a solid tech executive that under-appreciated.
The state of things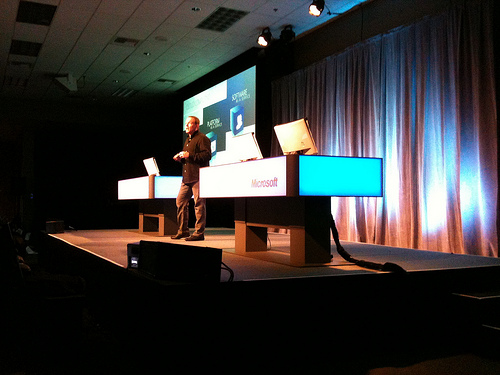 (Above: the most dressed down I've ever seen Bob Muglia, at PDC 2010.)
Microsoft has its share of criticism: the prevailing view is that they've been flat as a stock for a decade, or so..