The CES this year had about 140K attendees, a significant increase over last year's attendance.  More importantly, 30K of these attendees were international.  Last year was good for consumer electronic sales, particularly the Christmas season, so that buoyed the attendees spirits. This was another show demonstrating CE evolution rather than revolution.  As I wrote last week, this year I went to CES looking for the impact on consumer electronics in three areas: mobility (tablets and smartphones), app stores, and Internet.
Themes of Interest
Tablets. This is definitely going to be the year of the tablet.  In all, 80 tablets were introduced at CES showing different visions for the device.  For example, Samsung and Dell introduced tablets with full keyboards aimed at people that want to create content rather than just consume it.  Most of these will start hitting the market by April.  Undoubtedly with so many tablets hitting the market, prices will drop.  I spoke to a few CE buyers who stated that consumers would want tablets with Kindle's weight and battery life and iPad's functionality and overall application experience. Google emerged as the early tablet operating system/platform winner as most of the introduced devices were running Android.  Google also demonstrated Android 3.0 that has been designed for tablets.  Motorola demonstrated Xoon, a tablet running it.  I liked Blackberry's tablet (the Playbook) but it will be hard to catch up Android-based tablets in terms of applications running on it.  Microsoft announced the porting of Windows on ARM devices but I think that it will take a couple of years until we see such devices in the hands of consumers.  However, the availability of applications such as Office in ARM devices, combined with the appropriate cloud computing services, may represent Microsoft's best hope in having an impact in tablets.  With Windows on ARM the consumer will stop caring about the PC's architecture and focus on the seamless operation of applications across all devices he is using.
Smartphones. Two types of devices caught my attention: 4G smartphones and a new category of phones called superphones.  Several 4G smartphones were introduced this year and the prediction was that in next year show every high end phone will be 4G.  For example, Verizon alone introduced 10 4G-enabled devices.  While the devices looked great, the availability of 4G wireless networks and of bandwidth will become the key factors to their success.  Carriers expect 100-fold increase in the use of bandwidth through the use of 4G.  In his presentation FCC's Chairman Julius Genachowski talked about auctioning new spectrum for broadband.  It may take at least another 2 years before we know whether consumers will adopt 4G and will start upgrading their 3G smartphones.  This year also saw the introduction of a new category of smartphone which are starting to be called superphones.  These 4G devices, while the have the dimensions of smartphones, their capabilities make them more like tablets.  They run on Android and include 2GHz processor, 1 GB of RAM, multi-gigabyte storage, can be connected to a keyboard and a display and show video at 1080p resolution.  Motorola introduced the Atrix that in addition to being a superphone comes with its own webtop device.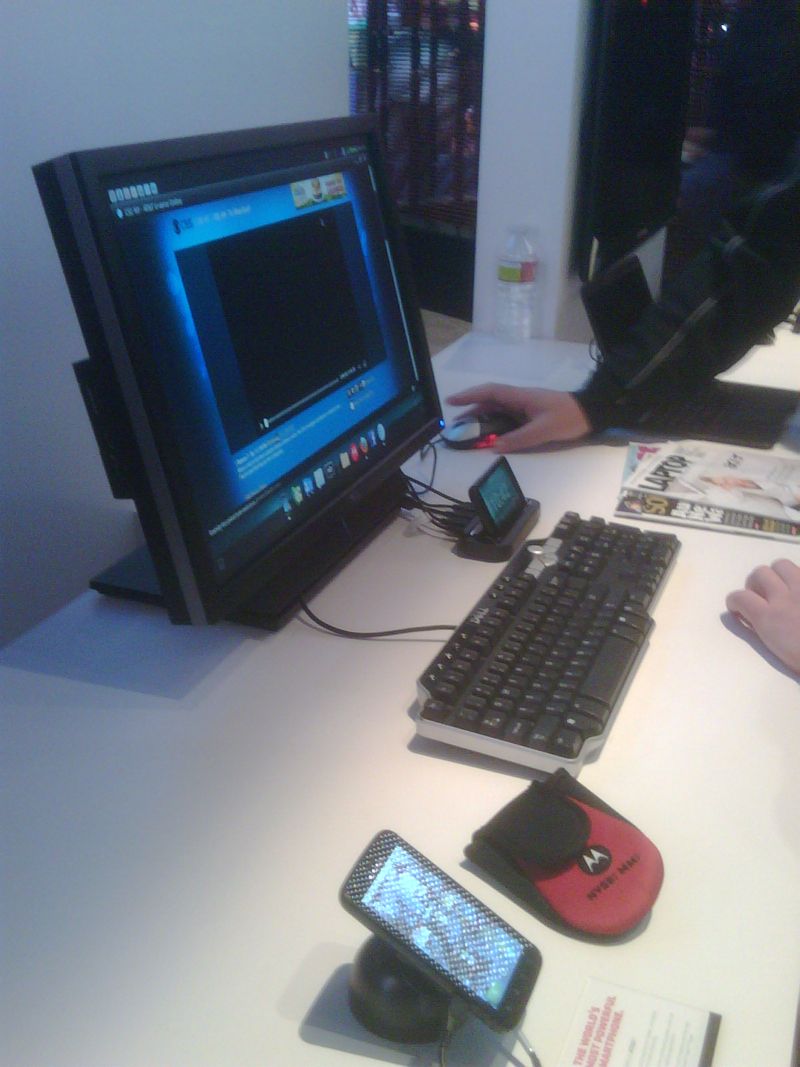 Two more thoughts on mobility.  First, it appears that we are settling into an operating system duopoly (Android, and iOS). Second, 3D is coming to smartphone screens (we'll see several devices working next year) which I actually think that it is a better idea than 3D on TV screens.  The 3D effect is better because the user is relatively close to the phone's screen and is staring directly into it.
App stores. I didn't think that we needed so many app stores but apparently many CE vendors (e.g., Samsung, LG, Intel, Dell) think we do, so they introduced one.  Samsung's has 150 applications, LG's has over 100 applications, and Intel's has over 2500 applications.  Many appear to run the same applications, e.g., Pandora, and incorporate cloud-based services to store content.  Unfortunately none of the app stores are compatible so application developers have to maintain different versions of each application.  Ford also introduced an app store to provide applications for its Fusion Electric car that was introduced at CES and will be available next summer.  Ford's goal is to provide applications that allow consumers to personalize their car experience, much like they personalizes their smartphone experience, better operate the electric car, by providing for example energy management applications, and allow for application updates over the cloud, thus allowing for improved technology refreshing.
Internet. This year TV sets were built on Internet platforms (Google, Yahoo) allowing the consumer to access and interact with the web from the TV set.
This 2-way interactivity will allow marketers to use direct response models through the TV.  It also means that consumers will be able to access content without the use of set top boxes. This year's CES provided a great showcase for the Internet of Things. Several manufacturers, e.g., GE, LG, Samsung, introduced internet-connected home appliances that take advantage of the smart grid and provide better home energy management.
Investment ramifications
More emphasis on mobility.  The new tablets, smartphones and superphones will need new, specialized applications that take full advantage of the device functionality and intended audience, as well as of the rich network services provided by the carriers.  For example, in at interview at D@CES, Twitter's CEO Dick Costolo said that while today 40% of all Twitter's users are on mobile (up from 25% last year), 50% of the most active users are primarily tweeting from mobile devices.  The use of 4G phones will result in 100-fold increase in the use of bandwidth.  We need to develop applications that innovate in the use of bandwidth.
Platform dominance.  While Google with Android is trying to emulate Microsoft's Windows strategy on the PC by attempting to become pervasive on mobile devices and IPTV, there will not be a single platform winner this time around.  Apple (with iOS for mobile devices and Apple TV) , and Microsoft (with xBox for IPTV, and eventually Windows on ARM for mobile devices) will continue to compete with Google.  Wireless carriers and cable operators are going to play a prominent role in this competition as well.  The competition presents interesting choices for application developers, since they will need to support multiple platforms (expensive) and each platform uses a different business model.
More emphasis on social media.  This CES showed the impact social media are having on the new generation of mobile (I heard the term "mobile sociality") and home devices.  The Facebook application was on every announced app store along with several other social apps.  Dick Costolo spoke about remote controls with a Twitter button.
Cloud computing.  Device manufacturers sense that consumers' comfort with cloud computing is increasing.  This is therefore the right time to be investing in a broad range of cloud-based solutions.