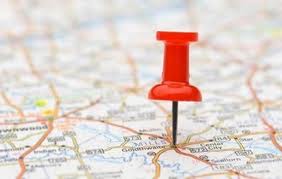 The process of coming up with predictions each year is an interesting one. It involves a lot of brainstorming and idea pitching of course, and in the end quite a few ideas end up on the "cutting room" floor. Now there are some pretty outlandish things there to be sure, but often some very good ideas don't quite make the cut…or more often the idea doesn't quite jell. You can feel strongly that something will happen, but sometimes the "what" doesn't exactly work. One of those ideas is related to hyper-local, mobile, context awareness and how to "win" in the local market. The technology to build a solution is available and several companies are trying to attack the problem (and from many different angles) but nothing seems to have clicked yet (no pun intended).
In the old days, you know, prehistoric times before the Internet, the Yellowpages was really the local vehicle of choice. It was the place people went to find a new local service / business and ads in it offered the highest hit rate. Radio and newspapers also had their share of followers but behaviorally when a person wanted to fine a new hair salon there was the Yellowpages and word of mouth. That was then, now, where do people go for the same information?
Social networks are the new word of mouth (along with actual word of mouth of course), but the Yellowpages replacement isn't so clear. As a side note, you know I was really surprised to see a huge Yellowpages book (yep, a real paper thing) leaning against my door recently, I promptly put it in the recycle bin where it belongs. Anyway, a culture shift from Web 2.0 has made the format of a Yellowpages (I mean, there are online Yellowpages) outdated. A business generated directory isn't really that useful today in a world that looks for customer generated ratings and reviews. I mean why would I trust the hair salon's ad that says they're the best when I can see what their customers say about them? Online there are two types of ratings / reviews sites, those that provide directory-like information like Yelp, and those that provide the directory AND a direct connection to the business (for the most part restaurants), like OpenTable.
Mobile is having a huge impact on what might happen with local as well. At the most basic level having some way to connect individuals to businesses based on location and context is a powerful concept. There are several active attempts to leverage location and mobile, FourSquare, Gowalla and even Yelp. FourSquare added a game paradigm that has created some engagement for users but has fallen short in enlisting businesses in the "game". If there was more incentive to participate from businesses then maybe there would be more engagement from users. All of these location based mobile services have gained some following but to me they don't go far enough with context and, other than Yelp, haven't captured enough mind share from businesses. There are, for example other context clues that could be used, the simplest being time of day and day of week. If I'm in a downtown area of restaurants at noon on Monday there's a good chance I'd appreciate an offer for 20% off lunch somewhere near by. And more over if I often check in to Sushi restaurants on Monday around noon then the offer of 20% off to a nearby but different Sushi restaurant might just be something I'd appreciate. It's about mutual benefit, the more relevant the offers to me as an individual the more likely I am to make use of the offer, which in turn is good for the participating businesses. Context can be inferred from behavior and behavior can be influenced by context and relevance.
Yelp is a special case, they've been around longer and they have, at least to some degree succeeded with both users / customers and with businesses. They have a local sales force that has been fairly effective in reaching businesses. They also have done a great job of building following through a community of users / reviewers. With the addition of location last year they are a strong player. They could, however take context into account in making recommendations and could significantly improve their value to the user.
Augmented reality (overlaying information onto the real world based on location) mobile apps / services also offer some potential for the hyper-local market. There are a bunch of AR apps for everything from astronomy to local tips. GrafitiGeo, for example is like an AR wiki that let's users leave graffiti in locations for other to read. One of the newer and more interesting from a local business standpoint is GoldRun, an app that provides AR treasure hunts to it's users and is linked to Facebook. The user gathers virtual items and turns them into rewards, which in turn drive traffic to online and brick and mortar destinations.
All of these technologies are a part of a new approach to commerce that combines mobile, Near Field Communications (NFC), eCommerce, etc, something we're starting to cover as converged commerce. There is a predictions that made the list this year so I won't go into it here but certainly this is a part of the approach to hyper-local as well.
Promotions historically have been an important part of drawing in and retaining customers. As you can see from what I've already discussed above the new commerce and the approach to hyper-local is no exception. Context based offers and promotions are a very interesting way to use new technologies to drive traffic. Physical coupons placed in newspapers or direct mail are still around but seem arcane. I throw away piles of them every week.  This past year saw the very rapid growth of business that provide online offers, Groupon emerging as the leader by a fair margin. Groupon, in fact is somewhere over $1B in run rate and reportedly plans an IPO this year.
As you can see there's a lot of activity around getting to the local markets.  In addition to the start ups I mentioned above Facebook, Twitter and Google have not been idle in this market, each launching a competing product. Google in particular has a vested interest in sorting out and getting into local advertising. This is the one area that up to now, they have made relatively little progress. Over the last year they have had two failed attempts to buy into local, first with Yelp and later with Groupon. Now with they own offering, Google Places with Hotpot and an android app and a newly launched iPhone app, they seem to have settled on trying to leverage their own assets and talents to make a run at local this year. Google's opportunity, tied to it's strength in search, could prove compelling to businesses and they have the added advantage of being the aggregator of other relevant content from Yelp, Zagat, OpenTable, CitySearch and others.
So what's the almost prediction for local this year…I don't know. As you can see, there are vendors coming at this from all sorts of directions and some have a great deal of promise. What will work, or better yet, what combination of the above will capture the minds of both users and local business owners? I'd expect to see a lot of consolidation this year, with both smaller vendors merging to gain broader functionality and some larger vendors buying up the smaller in an attempt to offer something more complete. Google and Facebook have the funds and the interest, as well as the need to capitalize on the opportunity while it's still up for grabs. I guess what I predict is that it will be an interesting year to watch this hyper-local market and by the end of the year, we'll have a much better picture on what will win…okay, I guess that's a pretty wimpy prediction, but it's all I have so far…