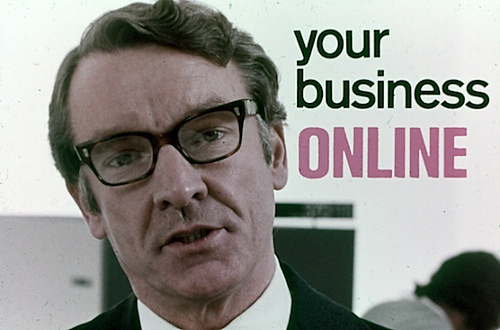 What are developers interested in when selecting a Platform-as-a-Service? If there's ready cash at hand, lock-in and "proprietary" is demoted in favor of a quick buck; if the developers are building a general application with a longer time between compile and cash, an open, standard platform is more attractive. That's the quick take, at least.
We've been having discussion more discussions about PaaS dynamics at RedMonk of late as people look at PaaS options (both selling and using). Here, I summarize:
The more popular and curious PaaSes
Why looking at PaaS is valuable for vendors
How RedMonk is starting to see developers evaluate options, early in this field as it is
The PaaSes in Hand
(Above: interview with Issac Roth, CEO of PaaS provider Makara, now owned by RedHat.)
There's not enough data and (more importantly) history available to make generalizations about broader PaaS adoption. Nonetheless, there's actually a hefty handful of PaaSes out there:
Arguably, Amazon has been offering so many pieces of middleware that they have a "build your own PaaS" stack (a sort of "salad bar"), but I won't consider them for now. (I haven't had a chance to check out AWS Beanstalk yet, here's some early commentary in Quora).
There's numerous PaaSes I'm leaving out (like Bungee and Morph, probably, and it looks like Oracle has something running around – many of them are collected in my bookmarks) – feel free to add them in the comments below – I'd appreciate it, actually. (E.g., here's a quick answer by Tweet.)
Why start a PaaS?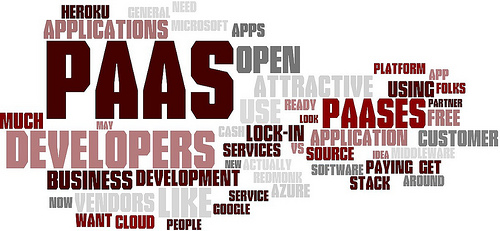 Software vendors (esp. middleware vendors) are wise to start figuring out how they can exist in a cloud world, and a Platform-as-a-Service is an attractive option for such vendors for several reasons:
It's available – Getting into the IaaS business is very difficult now, capital intensive, and establishing the differentiation (from Amazon, Rackspace, and others) needed to succeed is difficult. Ultimately, developers want to write applications, not manage cloud infrastructure. As Stephen noted in his predictions piece, while PaaS wasn't a hot topic in 2010, because of that it's a huge white space for vendors to get into.
It's what you have – The middleware and application development stack is often what vendors have in spades, so naturally, you want to roll what you have into your future.
It's billable – People will pay to run otherwise free software. Many vendors over the last decade have had to release their middleware and stacks as open source – developers would use little else. Monetizing open source (aside from getting a big company to buy you) in terms that investors want can be difficult. How much "support" and "integration" does the world need for something that they can download for free? Clearly, a fair amount to hear about the revenues and engagements of our clients, but there's still money on the table if you can wangle how to snatch it. The acceptance of a metered payment method for software (cloud, PaaS, etc.) is a huge hole in the open source company revenue ceiling: it's way to get people to pay for free software…in theory.
Up-sells, market-segmentation – Heroku and AWS provide good examples of the up-sell options for PaaSes. The basic service may be cheap, even not terribly profitable. But because of the ease of integration and speed to purchase, layering in additional services at a cost (of course) is an attractive model. It makes for excellent partner programs as well (read: little effort on the PaaS provider's part as the partner does most of the work, with a percentage on sales). The potential partner ecosystem for PaaSes (and all cloud-based services, actually) seems like it'd be excellent. You can see where these ad-ons allow you to segment the market as well. It's not clear that the usual dynamics work the same (slapping the word "enterprise" or "essentials" on something), but the segmenting minded out there should be drooling over the possibilities.
Evaluating PaaSes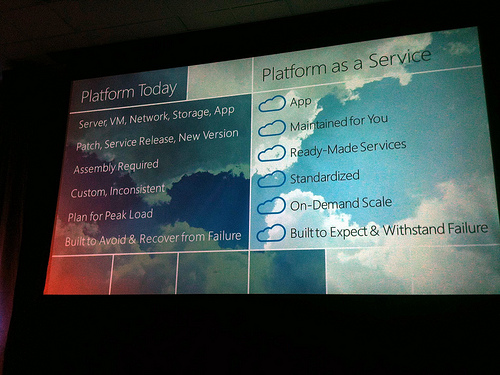 (Above: no-PaaS vs. PaaS slide from Microsoft's PDC 2010.)
All of that context in the chute, here are some observations: