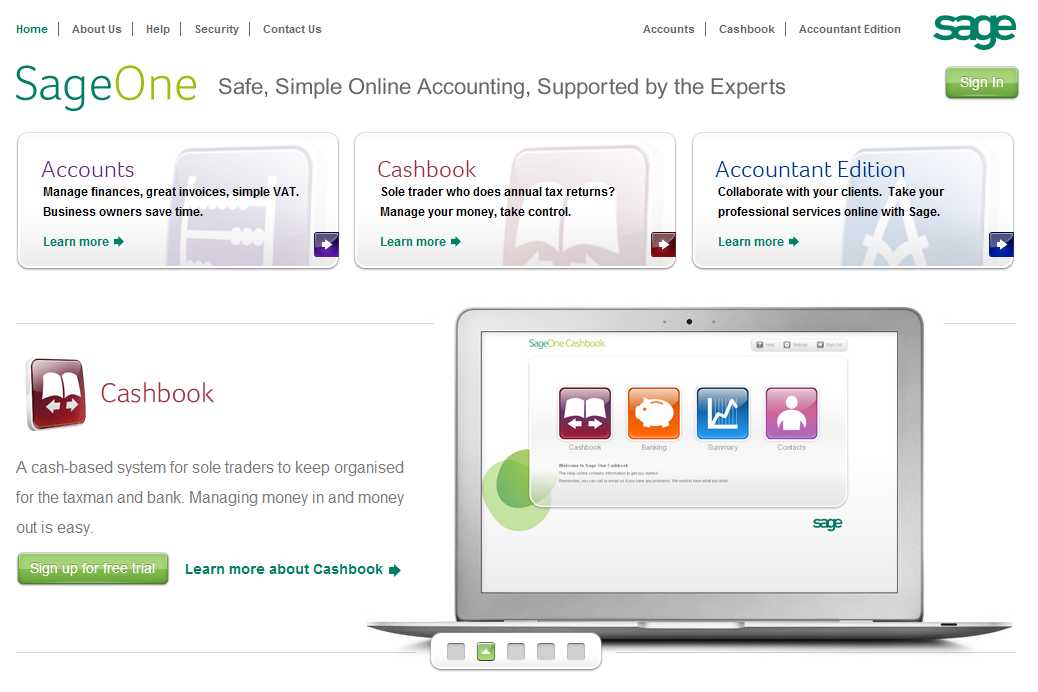 Last week Sage, the UK's biggest accountancy software supplier, finally released their first real online accounting solution.  It looks like a proper SaaS or Cloud offering, unlike the hosted Online 50 product sold through a few resellers from 6 years ago, or their previous failed attempt of SageLive in 2009.  I would argue that because of Sage's market acceptance, their Cloud offering marks a significant milestone in getting online, Software as a Service solutions accepted by mainstream businesses and practices in the UK.  I think it's great for the local and International competitors and start-ups who have been steadily gaining market share here since 2005 (or earlier), but for Sage themselves is it too little, too late?
The product is called Sage One.  That name gives you an indication of their target market, because they generally name their products for the number of employees in the typical company they support – Sage 50, Sage 200, Sage ERP 1000 and so on.  One is aimed at sole traders and small firms who don't have an in house bookkeeper or accountant.  It comes in three flavours – cashbook, accounts, and an accountants edition to help an accountant or practice collaborate and exchange information with their smaller clients.  This product fits firmly underneath their "bread and butter" Sage 50 product, and at first glance you might think it overlaps Sage Instant, but from my first look it has significantly less functionality than "Instant" – even their own positioning contrasts One against  "our powerful desktop software, Sage Instant Accounts or Sage 50 Accounts".  They certainly have kept it simple!  It's low cost – £5/month for cashbook, £10/month for accounts and accountants get their edition for £250 a year, or free if they are in the Sage Accountants Club.
On AccountingWEB, John Stokdyk has been talking to Dave Gibson of early user Blu Sky Accountants and he concludes:
"on a first view there isn't much to set Sage One apart from the 50 or so other Cloud accounting applications available in the UK"
Frankly I disagree.  I've signed up and played with the product, and most of those 50 SaaS competitors have a lot more functionality than this offering.  Sage One has a very basic coding structure, limited reporting, no drill down, and  although I can produce a PDF sales invoice I can't customize it with my own logo – surely that's essential?  The only place there is any hint of sophistication is in handling VAT, where all the options are covered and you can pull off a csv download of VAT transactions.   You can't get at your data anywhere else (although I haven't seen the accountants edition).  As Dennis Howlett says:
"Sage will likely argue this appeals to the many micro businesses that only want to record information, know where they stand at their bank and billing while leaving everything else to their accountant. I'm not going to argue the point as it is almost impossible to say what that universe of customers looks like without asking them about alternatives. What I can say is that the competition is way ahead functionally and continuing to win business at a fast pace."
Just a quick aside.  Looking back on the week's blog and media coverage of this topic, I'm struck by the fact that most of the reporting merely regurgitates the Sage One press release and launch quotes, with precious little analysis of the product itself.  Bloggers Dennis Howlett (arguably the primary resource for new thinking in the UK's accounting space), Duane Jackson (of competitor Kashflow),  and Ed Molyneux (of competitor FreeAgent who work with Iris) have done a proper job with some serious commentary.  Don't you think we should expect more from our accounting and technology  press?
The place that Sage have got things right is in the user interface.  Although conventional in layout and approach, it looks clean and simple and is easy to find your way around.  The online help is good, and they are making a big play in their product positioning of 24/7 support.  They seem to be relying on simplicity combined with the strength of the Sage brand, and that combination makes this a good contender for the micro business.  In addition, the Sage One website looks better than the rest of the Sage web presence, although I was intrigued that if you follow the product finder questions or the dropdowns in the Sage Store, One is nowhere to be seen.
The thing that I can't fathom is where all the time and investment has gone in  getting Sage One to this point (as well as wondering why they should launch a new product during the busiest month for most accountants).  Sage say they have been developing this for a year using Ruby on Rails technology and have been engaged with 100s of customers in heavy testing for the last 6 months.  I identify with Duane Jackson when he says:
"Sage are quoted as saying they've spent "millions" on this product and that it's been in development for over a year.  An agile startup could have got a product with this level of functionality built and released in under 3 months with a team of 3 or 4 people and it would have cost far less than £200k."
Most Ruby developers I know would look at Sage One and wholeheartedly agree.  In addition, where as most SaaS developers provide regular new releases as part of the subscription service every few weeks, or at least once a quarter, Sage only have2 further releases of additional functionality planned for 2011.  That doesn't give me any confidence that the web 2.0 development approach and Cloud culture is finding a home inside Sage.
On the Cloud topic, Sage have already provided hosted options for some of their existing products like SalesLogix and Sage ERP 1000.  They say they will be will come out with SaaS offerings for CRM, HR and payroll in the near future, and last October Paul Stobart the outgoing CEO of the time told Silicone.com:
"We're in a really good place to take advantage of the movement to the Cloud. The reality is we're deadly serious about the Cloud."
For me, this is the significant message out of the Sage One announcement.  My company partners with online accounting provider Twinfield and we certainly welcome Sage's entry to the market.  I believe it will validate Cloud and SaaS offerings for accountants in business and in practice in a way that no amount of marketing from us Cloud evangelists ever could.  I agree with Ed that the rising tide will help the rest of us.
However, I can't help feeling this is too little, too late for Sage.  They've come out with a product for the bottom end of the market, designed so that it doesn't compete with their core offerings.  I can see this could work for the large number of micro businesses we have in the UK, but I can't see the accountants who work with those companies getting excited by anything in here.  There is a new breed of accountant (like The Wow Company) who want  to make a difference and help grow those entrepreneurs, and this is too basic – they'll fall back to Excel or look elsewhere for tools that can help them do that.  It's a welcome toe in the water, but Sage could have done this years ago.  They have left the door to the Cloud accounting market open for a decade and 50 or more competitors have started or arrived in the UK from overseas.  Sage are very lucky that Intuit, who have a very strong SaaS accounting offering in the USA, hasn't bothered to pay much attention to the 51st state.   Since their early product successes, Sage have become known as a company who grows by acquiring products and putting them in to maintenance mode.  Here they had an opportunity to show some real innovation, but they haven't.  In avoiding disrupting their existing on premise product families, all they've done is given Cloud an endorsement that the rest of the competition can capitalize on.