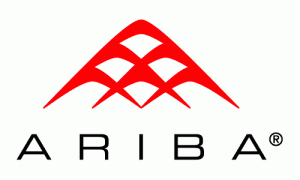 We'll be reviewing Ariba's most recent quarterly earnings performance in detail starting later today, looking at clues about its implications for customers, competitors and the broader market (if you want financial analysis, there are a number of solid sell-side folks and armchair CFA-type quarterbacks covering the stock — stick to the market pros and skip these pages). But what's most interesting from my vantage point as I thought about the bellwether procurement vendor's performance is how the company has now achieved a valuation multiple and amassed a solid amount of cash that may help it power through a number of product, talent and technical hurdles that are holding it back from dominating — and in some cases, even remaining a viable option (e.g., T&E, services procurement, etc.) — in the segments in which it competes or once competed.
In fact, Ariba's current valuation and perceived growth and leadership, while most certainly making at least some of the customer-facing members of the team more confident in the sales field according to our sources, could be the means that helps lead it to a dominant end. How might Ariba opt to leverage its currency? Above all, company leadership should take an honest look in the engineering and product mirror and report on what it sees. If I were in their shoes — with the type of valuation they have — here are some considerations I'd factor into account from a product strategy and corporate development perspective:
Many close to Ariba, plus those in the systems integrator community are well aware that Ariba's P2P re-platforming decision years back, when it opted to port Buyer rather than build a fundamentally new architecture, has led to a handful of challenges in relation to those that were true SaaS/cloud-oriented to begin with. These include certain system-to-system integration hurdles (some of which have been overcome, some have not) and higher roll-out times and costs (unless Ariba assumes it). Short of a new architecture and complete re-skin, which together would be a large and highly complex undertaking — the equivalent of overhauling a freight train engine as it is barreling down the track — an acquisition here of someone like Coupa could push the company in the right direction.
Services procurement remains a hole in Ariba's capabilities. Yet Spend Matters believes this will be one of the overall growth drivers in the procurement market in 2010. Ariba should have been more aggressive in their bidding for IQNavigator or Fieldglass when they had the chance at a lower valuation, but other potential choices do remain today. Still, Ariba may wish to make a large bet on this market given the booming model for both contingent VMS focused platforms and the broader SOW opportunity, which is catching fire in 2011. Moreover, the VMS % of spend model would be a great story for Wall Street when it comes to being viewed as a true network play.
Network revenue can be acquired at a market discount, as the Quadrem acquisition shows. Because of this, there is no doubt that additional network revenue/volume plays for basic document exchange, translation and management are in the cards, even if the services these supplier networks provide have largely become a commodity (despite what some may position). Additional industry/vertical consolidation plays may make sense as well. These and others are no doubt being planned for internally according to our sources.
Ariba needs an answer to complex sourcing and optimization — partnering with CombineNet is not a sufficient long-term answer alone. Leaving open the advanced sourcing flank to Emptoris, BravoSolution, Iasta and others was a misstep that could be remedied by the right acquisition (e.g., CombineNet or Trade Extensions) or organic development. The introduction of a former CombineNet technical and engineering team leader late last year may signal an interest in this direction.
Engineering and product talent — Ariba needs to coalesce a new generation of product management, product strategy and development talent. Ariba was originally a culture that balanced a strong sales focus with an engineering-led core. They now have the cash, cache and currency to bring in a new core of technical and product leadership. Recent years and quarters seem an exodus of many of the best technical and product minds in the organization (including an important departure in Q4). Ariba's currency can do more than stop this tide — it can reverse it. Yet one non-financial hurdle will remain — the cultural differences between Sunnyvalle and Alpheretta may prove another challenge when it comes to getting the most from the right senior engineering and product talent, regardless of where they sit geographically. It would be a very positive signal if Ariba appointed a new CEO or President that came from a software or product engineering background, or at least a leader who was comfortable with techies. Moreover, such a leader could break down the upstream, downstream and network product development and product management silos and factions within the engineering and products organization.
With the right changes that could come in part from successfully leveraging its newfound currency and turnaround cache, Ariba could dominate the procurement software marketplace (or collaborative commerce — or whatever you want to call it). Yet if it fails to move the needle in these areas, Ariba will continue to leave open the same flanks that it's failed to defend in the past — and potentially others as well.