On Monday social business platform leader Jive Software released the results of a recent customer survey on the benefits of social software. The details of the survey were explored earlier this week by fellow ZDNet blogger Oliver Marks and provides a good overview of at least what Jive customers are reporting today in terms of specific returns.
Those who are championing social tools in their organization will surely be heartened by the results of this survey. The double digit gains listed are almost universally positive and run the gamut from faster location of needed information to significant decreases in e-mail and support call volume. It's also good to see the results broken down by workforce engagement vs. customer engagement, which is the primary line of demarcation for enterprise social media. However you slice it, it seems that adoption provides broad spectrum benefits to the way that organizations work.
I've been reporting similar survey results for social software here in this blog for years and if you had managed by those alone, you'd have adopted Enterprise 2.0 a long time ago. I've since become somewhat skeptical of survey data, which often samples those most likely to be converts or otherwise have an interest in reporting positive returns. The real challenge is that despite the great increase in case studies over the years and some hard data on broad adoption, it's still difficult to get to the bottom of the business benefits in an objective way.
And social business benefits is not an idle topic; business leaders this year are very much looking at the tools that can drive growth in their organizations this year. A recent PwC report (yes, a survey, so add your grain of salt) of the 2011 outlook for CEOs says that "54% are funneling funds towards growth initiatives, including emerging technologies in mobile devices, social media and data analytics." Social media (now increasingly called social business when applied to work) is very much on the strategic agenda while the benefits seem increasingly obvious.
Deriving enough benefits from social business
But benefits alone do not a positive ROI make. Depending on how much it costs to deploy and maintain a Enterprise 2.0 solution across an organization, it might take a while for the reported benefits to provide a net gain. Worse, continued reports of information overload and wasted time in social media, are of concern to some and making them question if real productivity and efficiency gains take place.
Adding on security concerns, ease of architectural integration, marketplace maturity, and ongoing support costs like community management, and there's still enough uncertainty to make more conservative organizations take a wait and see approach, even as many of them that I speak with now realize that broad deployment of social tools is now primarily a timing issue.
In terms of what IT departments are looking at in terms of harder sets of data, probably one of the most ambivalent yet useful reports on Enterprise 2.0 of all came out last summer from the Executive Board, which reported the actual adoption level, risk, and maturity of social computing solutions from their members.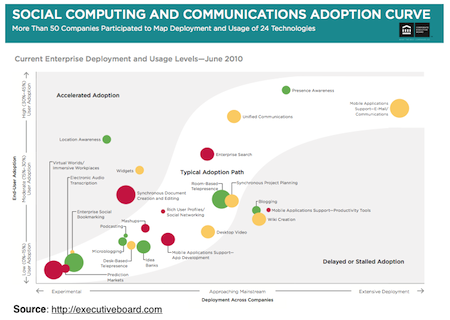 The adoption curve chart above from the Executive Board survey shows a different type of picture than most social computing surveys and is therefore useful as contrast. The size of the bubbles on the chart indicated the expected value (larger is greater) with enterprise search, synchronous document creation and editing (collaborative Google Docs-type apps), electronic audio transcription, room-based telepresence, and unified communications among the "social" technologies that were believed to have the greatest business value…