Spiceworks posted an analysis of PC (laptops and desktops) market share drawn from it's its 1.3M user-base today. This kind of Big Data based analytics is a rosey looking future for IT folks looking to get real, "numbers" analysis on what's going on out there. Previous to this, the company has been putting out more formal (PDFs!), interesting research in it's "Voice of IT" section: the quarterly "State of SMB IT" has had interesting figures on SaaS and cloud spend, as well as IT spend in general.
The Findings
In their data-set (machines "in the Spiceworks network"), Spiceworks found that, world-wide, Dell lead laptop and desktop market-share world-wide with 42.1%, followed by "other" at 32.1%, HP at 21.7%, and Lenovo by 4.1%. In the US, Dell dominates even more with 54.3% share.
There's some estimates on how much revenue these numbers bring in, with a note that just a 0.1% growth rate probably means $100M extra a year for HP and Lenovo.
Check out these visualizations: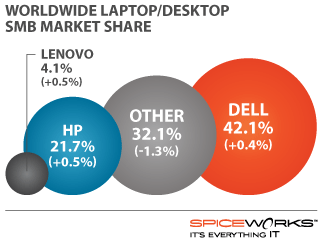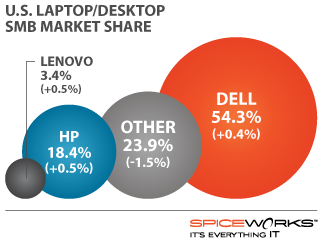 For comparison, check out …