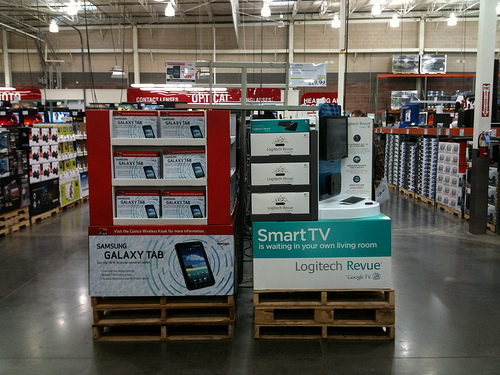 Soon, everyone will have a tablet in the market, it seems. Watching the HP TouchPad & friends (excellent coverage from Cade Metz) event this morning, I got to thinking about what tablet makers must do to compete with Apple. Most of them, so far, have failed on the key item: being cheaper than the iPad. That's feature number one.
Price < iPad
I mean, let's be frank: if you're releasing a tablet, you're benchmark and your competition is the iPad. That could change in time, sure, but for now, as in mobile, that's the sort of Platonic model of perfection that most buyers seem to have.
The sell isn't "here's why you should buy our tablet because it's awesome." The sell has to be "here's why you should spend your money on us instead of what you really want, an iPad." As the always entertaining @jrep said in Twitter while we were watching the HP/Palm/webOS/TouchPad shin-dig: "Interesting, ain't it, that Apple finds itself both "best" and "cheapest" for once?"
From what I've seen in non-iPad tablets released so far, each has been around the same price or more than an iPad. The Kindle is a the lone stand out here. I'd argue that it only succeeds because it's cheaper than an iPad. Not having used one personally, but having talked with many people, the Kindle is a great form-factor and a great device for reading books (that screen is pretty fantastic looking, even across an airplane row). But if the Kindle cost as much as an iPad, most people I've spoken with would just get an iPad. They especially have that thought if I mention that you can run a Kindle app on the iPad.
As Stephen O'Grady put it awhile ago: "Anything more than the iPad is too much, given the quality of that device. Less is better, obviously."
Other Requirements
There's some other differentiating "musts" as well that I've been metaphorically jotting down on the backs on envelopes as I see more and more tablet action:
It better work and look good doing it – we've seen plenty of tablets in years past that were basically crap or just clunky enough to not really be worth it. Back when I was at BMC, a co-worker had one of those laptop/tablet things where the screen twisted around to be a "tablet." I think it had a stylus too. It was just a little weird.
Flash – having used iOS devices for awhile now, when I switch to a mobile platform that supports Flash (like Android on a phone or the Logitech Revue Google TV) I notice Flash is a good way. I sort of think, "oh yeah, I've been missing that without realizing it."
All-in-one device for business and pleasure – clearly, having as many devices in one as possible is highly desired (phone, camera, computer, digital picture frame, music/video player, email machine, etc.). The fact that the first iPad didn't have a camera was pretty weird and something competitors can't get away with. Another "all-in-one" is allowing people to use the tablet for both personal and work use – integrating with Exchange, VPN, Office formats, and all that. The emphasis on email in HP's webOS bonanza this morning was a nice indication along these lines. The device has to work with corporate email and applications, but at the same time allow the user to cart around their personal music collection, photos of lady/guy-friends and kids. And most importantly, it needs games. Lots of games.
App Integrations – allowing apps to integrate and communicate with each can be a big disaster, but done right it can be great…