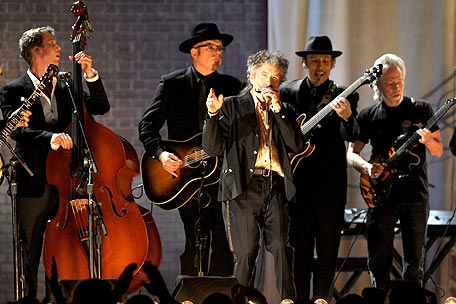 Apologies for the post-Grammys inspiration, but if you make your living – directly or indirectly – by writing, you need to read this New York Times piece, and Barry Ritholtz's followup – right now.
As Ritholtz describes it in his post:
"You would not volunteer to work for free as a greeter at Wal-Mart, a Barista at Starbucks or a fry cook at McDonalds — so why should you do so for free at these content sites?

The short answer is The Dangle: A promise of rewards in the future for work performed now."
As Huffington Post bloggers can attest to, those rewards may not materialize – and/or be evenly distributed.
Having personally spent (OK, wasted) a large portion of the 2002 – 2005 time period falling for 'The Dangle' I can relate. Yet I continue to receive ever more different versions of the same pitch – to 'share' my time and efforts with other audience(s).
Which is fine, as long as you keep WIIFM* in mind.
Indeed, I do believe in the value of both community and syndication, as I give away a considerable amount of content:
To Focus because it's an opportunity to participate in the disruption and reinvention of the technology market research industry – a reinvention that's long-overdue and which I am loving the opportunity to help create.
To Enterprise Irregulars because it gets my ideas additional exposure and readership (good chance it's where you're reading this right now).  It's also not a 'business' although that topic seems to come up fairly regularly within the group.
To StockTwits because of the feedback I gain and what I learn from the community – which makes me money (indirectly – trading). Hanging out with traders has made me both a better investor and a better analyst. Also a HT to Stocktwits contributor Josh Brown (a/k/a @reformedbroker) for both the inspiration for and links in this post. If you haven't read Josh's fabulous five-part series on blogging, go read that right now (well, after you finish this…) too.
Of course I also 'give' to Twitter and Facebook for similar reasons – to contribute to communities where I get value from my participation. However, at the same time I find myself retrenching, pulling back my participation in numerous networks and increasingly turning down opportunities regularly to do 'free content'.
In other words, as Ritholtz says:
"I did the math, You should as well."
Indeed you should.
Related articles