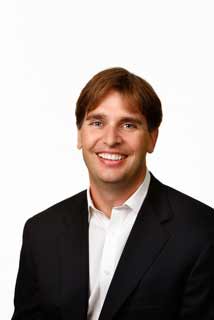 Jamie Grenney is the VP of Video and Social Media at salesforce.com. He has been with the company since 2002 serving in a variety of roles including product marketing, product management, and now corporate marketing.  In this job he has been instrumental in rolling out Salesforce's very successful video strategy.  We spoke with Grenney shortly before the Beagle Short Tale Awards were announced and he had some useful insights to share.
Denis Pombriant: Jamie, it seems like there's a lot of attention suddenly being paid to video in the B2B context.  Why?
Jamie Grenney: Video allows B2B marketers to deliver a clear and concise message that can be entertaining and easy for people to share.  One of the reasons it has gotten a lot of attention lately is the growth of online video.  Much of that growth has been driven by consumer adoption but the trend is really applicable to B2B marketers as well.
In the last couple of years we've seen advances in the quality of video and HD streaming — it's no longer about grainy images or taking several minutes to buffer.  The experience is pretty good on a desktop both for recorded content and for streaming events, so that's very exciting.
DP: What about on line content?
JG: I think there's dramatically more content available on line and because of that people now have the expectation that they can search for video and get answers that way.  YouTube has emerged as the second biggest search engine on the Web second only to Google search and so people are going there to find answers because that's the format they want to consume content in.
Just over the last couple of years we've seen an explosion of video on mobile Internet devices.  It's really kind of amazing to think that just three years ago the iPhone didn't exist and if you fast forward three years Apple has sold roughly 120 million mobile Internet devices including iPhones, iPod Touches and the iPad.  Before that, video on a mobile devices really didn't exist in any meaningful way. Consumption of video on mobile internet devices is still a very new phenomenon but one that I think will accelerate.  Right now, people watch video on their mobile phones — typically when they're in a WiFi space — but with 4G that will become more prevalent.
Then there's the iPad and the Internet connected televisions that are just beginning to change the way people consume videos in their homes.  People are watching their iPad in bed or maybe watching an Internet connected TV in their living room so the accessibility of the content has grown dramatically and will continue to do so over the next couple of years.
So why is video important in a B2B context?  I'd say that online video is coming of age and there's a growing audience that businesses can reach —Businesses realize it's often the preferred medium to learn about things — and it's a very social medium.  People are much more likely to share a video with a friend than a white paper or a data sheet.