In today's ITO/BPO market, it's getting harder and harder tell providers apart, when selecting a sourcing engagement partner. Once they can compete on price, have a reasonable track record for operational effectiveness and can transition you to a globally-sourced environment, we really get down the nitty-gritty of how can they really help my business achieve growth and productivity?
HfS is engaging heavily with both buyers and providers of sourcing to understand how buyers can benefit from genuine operational and industry insights to improve their business performance – and we believe the capability offer these analytical insights thought smart governance models is quickly emerging as a major differentiator.  And if your main provider isn't passing muster with their insights, can you find a specialist to add to your sourcing mix that can?
Over the last 15 years, the importance of analytics as a business activity has grown dramatically. While the top brass once used guts and intuition to guide decision making, today, data is the prime weapon in the management arsenal. As data analysis techniques have gotten smarter over the years, analytics have emerged as a specialized function of business employed broadly across industries and functions.  Our new HfS Report, imaginatively titled Where offshore analytics is heading in 2011 investigates…
Analytics needs today are both horizontal and vertical
When you're moving major components of your business and IT administration offshore, you need the capability to get rapid data on your global operations. You'd be amazed at the dearth of information many global firms have over the operations, their employees, their supply chain, their finances etc.
However, it's no longer about having quality "horizontal" analytics.  That's a given, today, as companies increasingly globalize their processes and business functions.  Industry-specific analytics techniques are now rapidly evolving, while other, more industry-neutral "functional" analytics services are also gaining popularity due to unified business needs. For example, while a specialized branch of analytics is dedicated to the retail segment (retail sales analytics, merchandising among others), generic supply chain analytics cut across all sectors.
The key verticals for analytics demand today are banking, financial services, insurance, retail, telecom, healthcare and pharmaceutical, advertising, new media and entertainment. Our primary recommendation to buyers is to carefully evaluate their business functions to identify latent areas that may benefit from analytics activity. When a business process (e.g., F&A) is carved out, analytics is easier to apply. But organizations need to seek out hidden opportunities in areas such as risk analytics, buzz analytics and mobile web analytics to compete in the current environment.
Who's buying offshore analytics?
Fortune 500 companies that have massive data repositories are the most important client group for all service providers:  as they sink their teeth into offshore analytics services, its much easier (and cheaper) to add FTEs to existing outsourcing engagements, or existing projects, than create new requisitions for onshore analysts. Enterprises from industry verticals such as consumer goods, financial services and telecom with high exposure and maturity in offshoring are significant buyers for offshored analytics services.
Besides the Fortune 500 companies, service providers are increasingly targeting mid-sized clients to move up the value chain. Some niche service providers are also looking to serve the rapidly growing domestic and regional markets.
Large IT-BPOs and KPOs are trying to cross-sell analytics services to their existing clients, especially as add-ons to engagements in areas such as customer management, F&A, HR and Procurement, where there is a constant ongoing need for better quality and more accessible data. These firms are also trying to focus on creating capabilities in high-value analytics services as value-added differentiators for corporate clients.
Many of the KPOs and smaller BPOs also are also seeking to create specialized capabilities to service parts of analytics projects and eventually take a vertical approach to growth in their chosen niche in order to move up the value chain.
Although both large and mid-sized firms present opportunities for analytics providers, the level of scale and importance attributed to the service differ. Due to the impact of analytics (e.g., efficiency gains, cost savings), the need and savings potentials are more significant for larger buyers in absolute terms, however, as this market becomes increasingly saturated, expect the competition and demand to pick up in the mid-market.
And who's selling offshore analytics services?
The number of service providers offering analytics services from offshore locations has exponentially increased over the last 5 years. Furthermore, the number of companies with a desire to build an analytics practice will easily be double the number of players in the market today. This huge increase in the number of vendors can be largely attributed to the desire to clone the success of early movers in the analytics space.
In the early 1990s, several companies started using analytics as a tool to derive answers to specific business issues. However, the application of analytics was very limited due to the limited availability of exhaustive historical transactions and research data. Some corporate giants such as GE had begun offshoring transaction processing activities during the 1990s. A lot of this data was then used as raw material for building solutions using techniques in analytics. Captives started offshoring low-end analytics activities: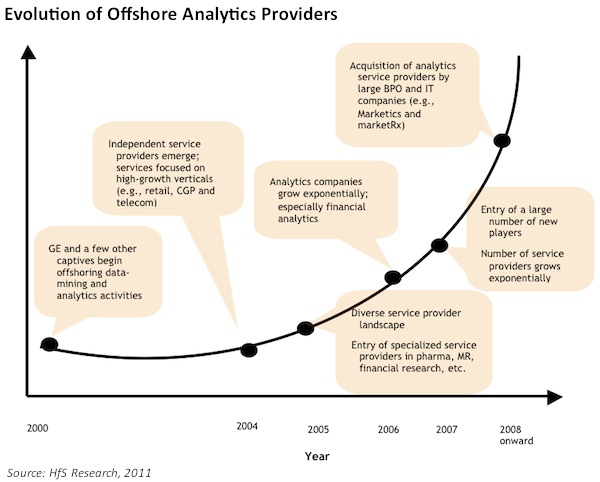 Eventually, as these processes stabilized, companies started offshoring the entire analytics value chain to their respective captive centers. Today, the scope of analytics services provided out of these captive centers goes beyond business process outsourcing. Several captive centers have large and specialized analytics teams providing solutions to internal clients globally.
The offshore analytics landscape has changed over the last decade from one dominated by captives of large companies, primarily in India. Today, the industry features a large number of providers offering end-to-end specialized analytics solutions to specific verticals. High-value third-party analytics solution providers are focused on providing value beyond cost arbitrage by leveraging a combination of onshore-offshore delivery models and the use of technology.  Our forthcoming "HfS Form Guide" evaluates the market footprint and potential of the key analytics service providers.
So who are these providers, how are they specializing, and what makes them different?  Read on by downloading your copy of our new report "Where Offshore Analytics is Heading in 2011".